Public awareness of the nutritional benefits of goat milk and the lower environmental footprint of dairy goat farming are also providing an attractive proposition for farmers to enter or expand in the market.
Waikato Milking Systems small ruminants specialist Andy Geissmann said increased interest in dairy goat farming had in turn increased demand for new milking parlour technology.
"The demand is growing and based on a number of factors: I think the Dairy Goat Co-operative's decision to take on new suppliers definitely prompted new farmers to enter the market. Also, we are seeing customers expand their taste pallet and there's more interest in goat cheese and goat milk being sold than before."
In 2020, Waikato Milking Systems installed three new parlours for dairy goat farmers in New Zealand, one in the US and 14 in China.
The New Zealand projects included an 80-bail Optima External Goat Rotary for Oete Goat Farm near Pukekohe.
"Oete was looking for a state-of-the-art milking system with high throughput, with animal and operator comfort.
"They were also looking for something that was visually appealing because they wanted to set the farm up as a visitor centre too, and be able to have tour groups through."
The Oete project was a greenfields build. The farm had an old converted cow shed next door which it continued to use, along with the new rotary.
"We also installed almost a replica of the Oete rotary, for New Zealand Dairy Goats (NZDG), on their property near Matamata," Andy said.
"It's a new business but with a lot of background in dairy farming and goat farming as well as milk processing. That was a greenfield development too, and NZDG was also looking for a system that could handle large throughput."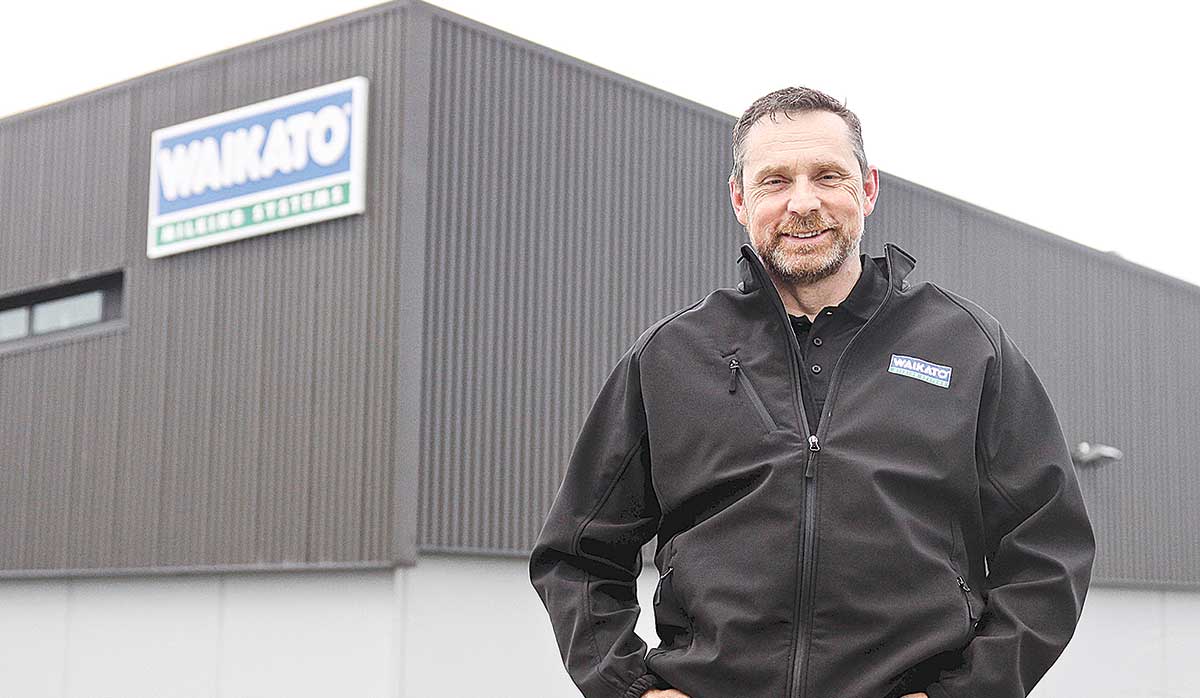 Waikato Milking Systems small ruminants specialist Andy Geissman.
Both rotaries featured a unique automatic cluster presentation arm for rapid cluster attachment and best possible cup alignment.
Rubber mats were also fitted to the deck of the rotaries, to ensure animal comfort as the goats stand during milking time.
The third goat shed installation was for Goasir in Te Awamutu, a 2 x 32 double-up, in-line milking system.
"It was converted from a cow herringbone where all of the milk room equipment was able to be reused and only the milking equipment in the shed had to be replaced."
Andy said both rotary parlours had ID equipment which focused on milk yields so the operator could make better decisions about high producing animals for breeding.
"The double-up shed already had automation tech that can be upgraded to a herd management system later on."
A report into the development of the dairy goat industry, funded by the Provincial Growth Fund, was released in July 2020.
It said New Zealand's dairy goat sector was a mix of small commercial farms, between 60 and 150 goats, and large commercial operations, 700 and 6000 goats.
Four companies dominated the landscape for export products, the report said.
It included Central Dairy Goat and NZ Nutritional Foods, which uses the facilities of FoodWaikato in Hamilton and the Dairy Goat Co-operative and NIG Nutritionals, both of which process milk at their own factories.
All are in the central North Island, although Andy believes there is scope for a processor to set up in Canterbury where there is ample opportunity for dairy goat farms.
"Personally, I'm not surprised by the large interest in dairy goat farming," Andy said. "New Zealand's goat milk is highly regarded globally and that's got a lot to do with our highly regarded image as a farming nation."