OSPRI says this period presents a risk for poor NAIT compliance as farmers navigate the intense demands a move requires.
"When NAIT compliance is compromised, our traceability system is threatened and we run the risk of having a system that will not perform in the event of another disease outbreak, as was seen in 2017 when M. bovis wreaked havoc on New Zealand farms."
This year, OSPRI is taking a different approach to how it communicates with farmers.
"We will be creating targeted, timely and clear messaging that will support farmers to complete their requirements on time and without hassle," it says.
"We have used insights gathered from research undertaken by UMR (2018) on farmer attitudes towards NAIT compliance to develop our approach. This research found that 92% of farmers surveyed agreed that 'Farmers have a duty to their wider farming community to comply with NAIT regulations'."
Research commissioned by Ministry for Primary Industries (MPI), DairyNZ and Beef+Lamb NZ in 2021 found that:
NAIT compliance is strengthened when there is relevance 'to me and my situation & of my actions on others, the community & the country'
'Hassle factors' will turn farmers off complying. Farmers are part of a team of 5 million and understand the NAIT system works if everyone 'does their bit'
Workarounds will not necessarily make it easier in the long run
Farmers need to understand the universal 'why' to complying.
OSPRI says it has used these insights to develop a friendly approach to encourage farmers to do their bit for biosecurity and update their NAIT accounts during Moving Day. With the tagline, 'Be a mate, update NAIT'.
OSPRI says it's committed to making the task of completing NAIT requirements over the Moving Day period as quick and easy as possible.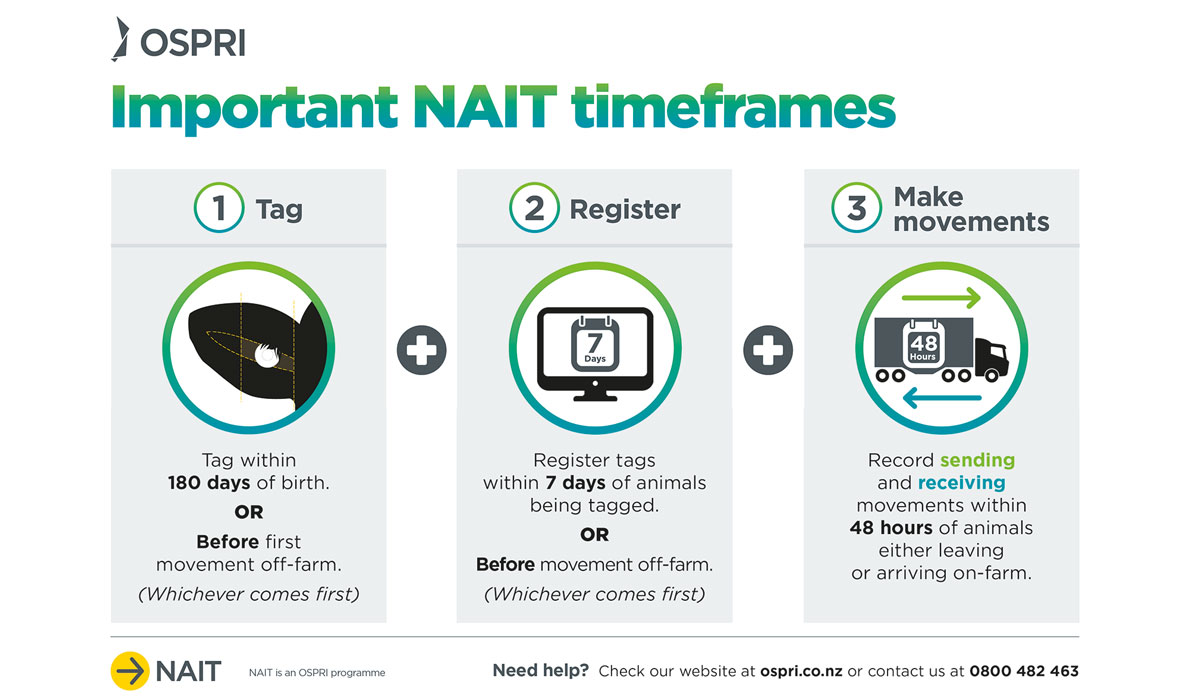 OSPRI is committed to making the task of completing NAIT requirements over the Moving Day period as quick and easy as possible.
"We encourage farmers to ensure they are completing the following four steps if they are moving farm with their animals, e.g. sharemilkers and contract milkers moving their herds to other farms or sending their herds away for grazing:
Farmers should have tagged and registered all their animals and their NAIT account should reflect accurately what is on the farm.
Create a new NAIT Location at the farm they are moving to an register all grazing blocks they are in charge of (ensure 3rd party software suppliers have this new number and they have assigned them access to their NAIT account as information providers)
Record and confirm movements to new NAIT locations. This must be completed within 48 hours of the movement taking place
Deregister old NAIT location numbers.
If they are moving farms but the herd is staying where it is, e.g. farm managers moving to a new farm, they need to:
Complete, sign and submit a PICA (Person In Charge of Animals) change form and submit to

This email address is being protected from spambots. You need JavaScript enabled to view it.

When they arrive at the new farm, ensure they register as the new PICA within 48 hours of arriving at the new location.
If they are no loger a PICA, they do not have to be registered in NAIT
OSPRI says its support centre has recently been revamped to optimise our services.
"But we ask that farmers consider the extremely busy period and the potential impact Covid will have on our resourcing when they contact our support centre over the Moving Day period."
Head of Traceability Kevin Forward says the Moving Day period is extremely busy for farmers.
"And we aim to make NAIT compliance as simple as possible with our messaging this year.
"It is important that farmers understand why keeping their NAIT records up to date is so important.
"This practice is protecting themselves and their farming community from the potentially devastating effects of another disease outbreak."
For more information on updating NAIT, go to ospri.co.nz.