Friday, 14 March 2014 12:02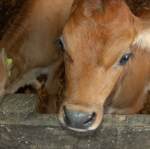 THE NATIONAL Animal Welfare Advisory Committee (NAWAC) is seeking public consultation on proposed changes to the Animal Welfare (Dairy Cattle) Code of Welfare 2010.
Friday, 28 February 2014 16:13
KILLING bobby calves with hammer blows to their heads should send shivers down the spine of every Kiwi dairy farmer.
»

Latest Print Issues Online
UK vegans are demanding a law change to ban discrimination against plant-based eaters in workplaces.
Even more fibreglass cows may join those seen 'grazing' Morrinsville streets for four years.