B+LNZ says the test results show "excellent dairy-friendly beef bull options are available to dairy farmers, and dollars to be made".
Since 2016, 86 bulls have been progeny tested. The bulls are suited to mating with dairy cows – based on their birth weight and gestation length – and they produce calves suitable for beef finishing.
Research lead associate professor Rebecca Hickson says that, of all of the bulls assessed to date, there was a 56kg difference between the best and worst bull for yearling weight. "At $3/kg liveweight that translates to a $168 difference per head."
On birth weight and calving ease, B+LNZ says the results reveal many low-birthweight beef bulls produce calves similar to, or lighter than, calves produced by an average Friesian bull, when bred over crossbred cows.
On gestation length and days in milk, B+LNZ says bull selection has a big impact on gestation length and therefore days in milk. The average gestation length EBV of the progeny test bulls was 281 days – slightly better than the dairy breed average of 282 days.
Here is how dairy farmers can use the results: the five bulls identified above are the sires that tick all the boxes – low birth weight, short gestation and good growth. Other bulls were strong in particular traits, but the listed bulls excelled in all traits.
Says Hickson: "These five bulls in particular offer great value to dairy farmers and finishers."
From a big picture perspective, the test reinforces that dairy farmers can be confident that beef EBVs reliably predict performance in a dairy beef system.
"Selecting bulls on EBV allows dairy farmers to make informed decisions on bull choice within a breed," says Hickson.
The full sire list can be found at blnzgenetics.com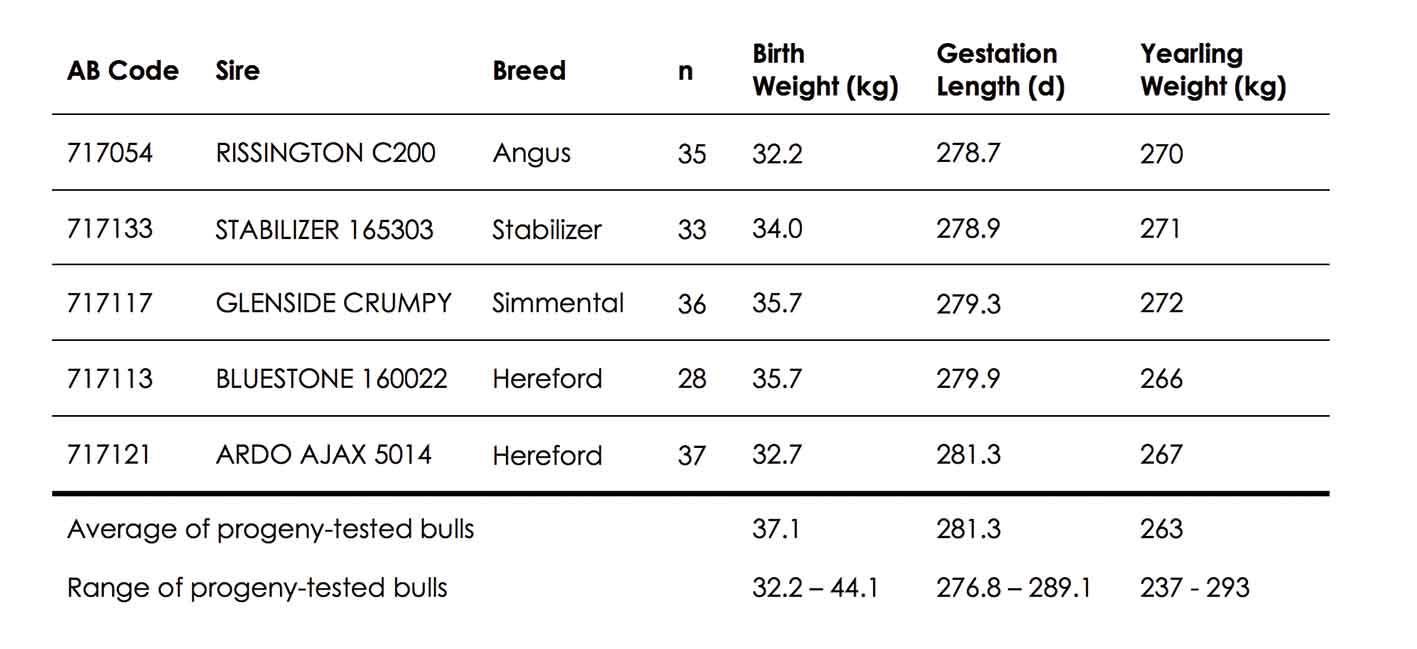 Calves were weighed up to 10 months of age, so the table's 'yearling' weight is actually two months shy of yearling.