It showed how New Zealand dairying cannot be complacent in the face of international competition, he says.
Macmillan, of Rangiora, is a career farm consultant who 30 years ago founded his Farm To Farm tour business arranging and leading agribusiness tours in NZ and elsewhere.
He recently led a tour of NZ farmers to the American Midwest and said one particular business – which "has to be one of the largest family run dairy farms in world" - illustrated what the NZ dairy industry is up against.
The farm is in Indiana where the climate extremes of very cold snowy winters and very hot summers make barn dairying the only practical option.
37,000 cows are housed year-round and milked three times daily in 11 free stall barns.
Most of their feed is produced on the 13,300ha property. Cows are fed a daily ration of about 45kg each, made up of 60% maize silage and soybeans, 30% hay and 10% concentrates, minerals and vitamins.
Production is 1.5 million L/day (about 41L/head) valued at about NZ$7.00/kgMS.
Macmillan said the business sells its own branded milk products including fresh and speciality milks, cheese, yoghurt and ice cream, and has a distribution agreement with Coca Cola.
It is located in a heavily populated region of the US Midwest with 27 million people living within a radius of 140km, hence a huge potential outlet for their produce.
The cows are bedded on sand which, as an inorganic material, helps avoid disease build-up. It is cleaned three times a day by vacuum machines that separate off the manure which is then processed in biodigesters to produce methane to generate electricity and fuel the farm's vehicles and machinery.
"We were told that the business is 98% self-sufficient in energy," said Macmillan.
"A noticeable feature was the absence of the usual effluent smells associated with dairy farming."
"It was interesting to see how this farming business is endeavouring to bridge the gap between America's 2% of farmers and the 98% urbanites.
"The farm is located adjacent to a busy interstate highway and they have opened the farm for public scrutiny, getting up to 750,000 visitors per year including school kids, the passing public and anyone else interested in where milk comes from.
"Associated with this is a birthing barn for public viewing of calves being born, guided bus tours of the facility, a hog finishing enterprise and retail store selling the farm's dairy products and branded merchandise."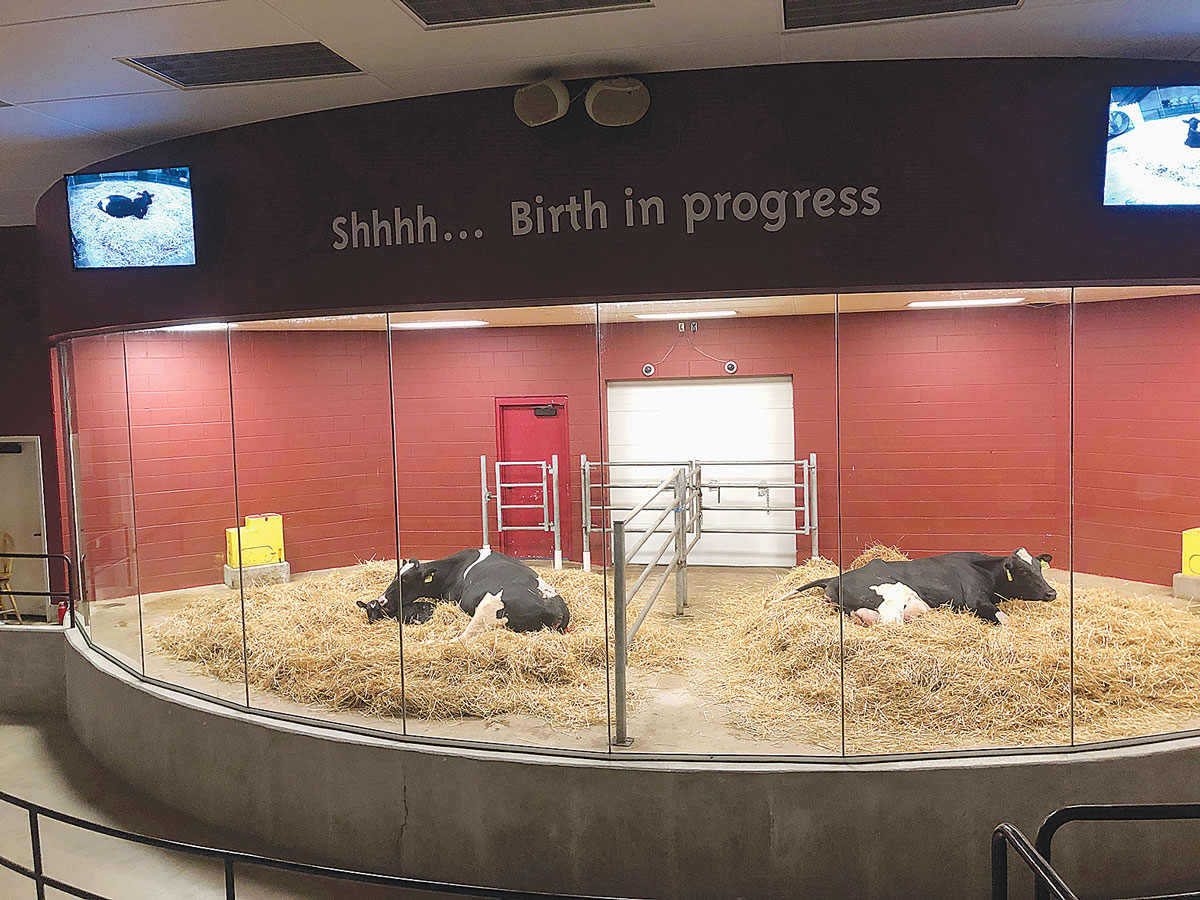 Macmillan identified a number of take-home messages from the visit:
It showed the comparative ease with which American farmers can expand production, based on growing crops on very good soils and feeding to housed cows.
The high production achieved under these conditions and the comfortable and relatively hygienic conditions of bedding cows on sand and regularly cleaning off manure to a biodigester. The near 100% retention of energy from the biodigester to support the farm operation was an eye opener.
The scope for large farming businesses like this to move their branded added value product up the value chain to a huge, captive and relatively wealthy local market.
Opening the farm to 750,000 visitors for public scrutiny in an effort to bridge the gap between urban and rural lifestyles and to show how their cows are farmed and treated and to emphasise where milk comes from.
Macmillan said it is a very different scenario from NZ's pasture based dairying.
"This is the type of global competition we are up against. The way forward for NZ dairying must be to differentiate our products, emphasise the advantages of pasture based milk and tell the positive NZ story behind it.
"If grass-fed milk is supposed to be nutritionally superior with higher omega3 and all that sort of stuff, we have to shout that from the rooftops and not just be a bulk exporter of a commodity."