Instead Mat Hocken left all the glitz and glamour of Europe to return to the tiny Manawatu township of Colyton to run the family dairy farm.
And his amazing overseas experience and knowledge have not been wasted because a week ago he was named the winner of Rabobank's Trans-Tasman Emerging Leader Award – the first Kiwi to win the award since it began in 2013.
For Mat Hocken and his wife Jana it was a very special occasion and honour being presented with an Oscar-like trophy at a ceremony in front of some 200 guests, many from Australia.
Presenting the award, Rabobank Australia and New Zealand managing director Peter Knoblanche described Hocken as "one of those exceptional emerging leaders who has the combination of business, technical, interpersonal and entrepreneurial skills, as well as academic and sporting success".
"It is the complete package that makes him stand out. Mat is an exceptional young agribusiness leader who has a passion for the industry and a desire to keep learning. I have no doubt these attributes will ensure that his influence in New Zealand's food and agribusiness sector will continue to grow."
After leaving school in Manawatu, Hocken gained a law degree at Canterbury and, while just beginning in law, he was offered an opportunity to study at Cambridge University in the UK. Hocken, long interested in politics, gained his masters degree there in political science and government.
He then worked as a consultant with a company in Brussels, advising clients on matters relating to the European Union. And there he met his wife Jana. He also worked in Australia and all the time pursued his interest in rugby.
But the lure of the New Zealand lifestyle and the opportunity to be the fourth-generation Hocken to run the family dairy farm – Grassmere Dairy -- won out and he and Jana came back to NZ in 2013.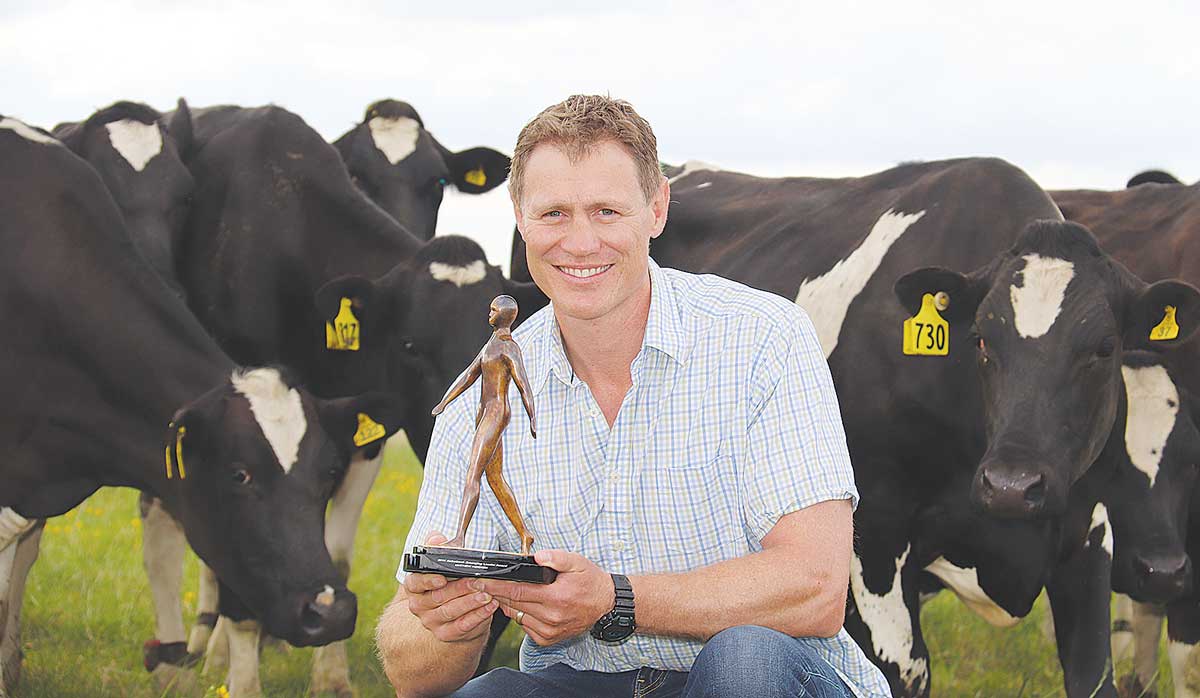 Mat Hocken with his Rabobank award.
Today the couple run the dairy farming operation -- two farms with a total of 1000 cows and a dry stock block. The farms produce about 430,000kgMS. They employ seven staff. Hocken's father Ross also lives nearby and runs drystock and grows maize.
The numbers make the farm sound like a typical dairy farm, but Mat and Jana are not your average dairy farmers. Both have been corporate high flyers, are tech savvy and have innovated on the farm.
And they have connected with like-minded farmers, growers, scientists and researchers in the region to create new systems to take farm management to a new level.
Mat was involved in setting up Rural Innovation Lab, a network platform intent on addressing challenges to the agri sector, eg the carbon issue, cutting costs and sharing machinery. The aim is collaboration and openness to new ideas.
The lean operation
Mat Took on the role of local Federated Farmers dairy chairman and in 2018 was a Nuffield scholar looking into innovation in agriculture. Their commitment to innovation sets Mat and wife Jana apart from others.
Jana has written a book called Lean Dairy Farm, based on Toyota's management philosophy. Jana once worked for Toyota.
Mat says the Lean concept has a focus on continuous improvement and seeing problems as an opportunity to improve. It looks at waste reduction, be this in terms of products or time and this fits neatly into the sustainability agenda. Efficient businesses are appealing to their staff, Mat says, because they, like the owner, don't like to waste time.
And while the dairy shed at Grassmere Dairy is crammed with the latest technology, in the staff room very low technology is equally central to the running of the business. The walls are covered in white boards displaying the various metrics of the operation. They call it 'visual management'. The staff meet here weekly and their discussion is based on boards' content.
"The staff were involved in designing these boards so it's very much a bottom up process," he said.
Mat emphasises communicating with and training staff, giving them responsibility and making them accountable for specific aspects of the operation.
"This instills a lot of pride in people. We also have a five days on, two days off roster even through calving and I don't think you'll see anything like this on other farms."
Looking to the future, Hocken sees many challenges, the key one being environmental. He says dairy farmers must be more closely connected to consumers, as are horticulturalists and even sheep and beef farmers.
"We need to move beyond just telling our story, to finding out what information our consumers want and giving it to them in the way they want it," he said.
His award will enable Mat to attend a two week Rabobank-run leadership course in Sydney, with networking and meeting like-minded agribusiness leaders in Australasia.