That is essentially the message of a $3.5 million campaign being run by DairyNZ to try and get 1000 New Zealanders to fill farm jobs in the industry.
This has become more urgent with the New Zealand border being closed to the many overseas workers who traditionally come to the country for the peak of the season.
The GoDairy campaign is targeting NZ residents or citizens of all ages who have either lost their jobs due to Covid-19 or think they might or are looking for a new career path.
According to DairyNZ people team leader, Jane Muir, the programme is designed to give those interested an insight into what a dairy farm job might look like and if they like the idea, some basic training is offered to make them 'farm ready'.
People are invited to register and complete a 10 hour online course over a week. If they are still interested they can then do a two week practical course to give them the necessary skills to apply for a farm assistant job on a dairy farm.
Muir says, as of last week, 300 people had expressed interest, 99 have registered to begin training and 65 were actually being trained.
"At the end of that first week we ask people if they are still interested and if the dairy industry still excites them. If the answer is 'yes', then they do the practical skills course, which includes animal handling and the use of farm bikes and tractors, as well as giving them some insights into the industry as a whole," she says.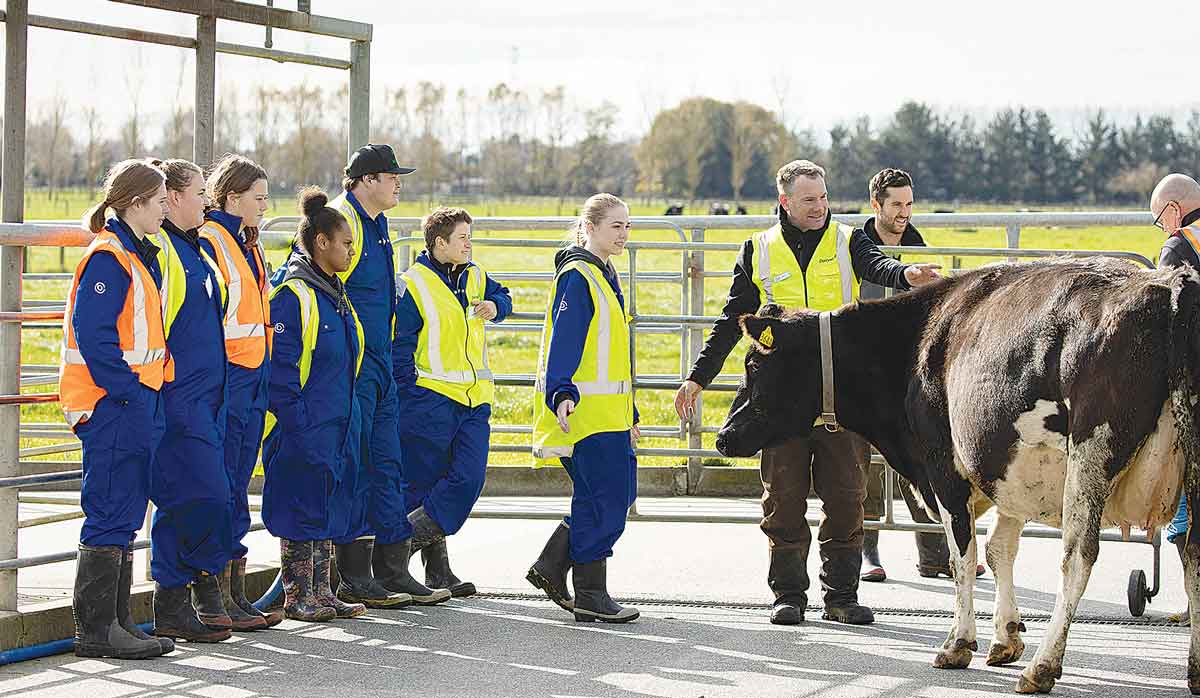 The dairy sector is looking for 1000 extra workers.
Muir says the practical training is done by Dairy Training Limited, a subsidiary of DairyNZ as well as other accredited training organisations. The on-farm modules take place at training institutes such as Telford and Taratahi but also on actual dairy farms which the owners have offered to support the campaign.
"The campaign is called 'farm ready' because we think it means that during that process people will find out if dairying is right for them. We think that if people commit to the three weeks they probably have decided, but the first week is the one we'd expect the biggest drop off. Our belief is that after three weeks training these people are ready to step into the entry level role of farm assistant," she says.
While they will obviously still have a huge amount to learn, Muir says the trainees will have a basic understanding of what's required and an understanding of what drives dairy at farm level. She says they will also likely have the confidence to ask questions and to become effective in their roles more quickly.
So far those showing an interest in the programme come from all ages, (17 to 50+), all sexes and from a wide of occupations. These include baristas, property managers, drivers, mechanics and people who have been working in the tourism sector. Muir says most of the people have transferable skills and as they progress in their careers in the dairy sector these skills will aid their progression.
She points to the example of a mechanic who might quickly take on the role of maintaining machines and vehicles on farm.
She says during the first week of the training programme, the issue of living in a rural community is carefully explained to make sure people understand just what life is like. She says the issue of 'isolation' has hardly arisen as she points out that many people living in larger cities often have long commutes or travel some distance to see friends.
The selection focus is to recruit people who have a positive attitude, are reliable and are willing to learn.
"Our other big focus is getting people who will be in the industry for the long term. We are not looking for people who come in for a short time and then go back to the jobs they came from," she says.