The Lumsden couple had been forced to cull 1700 calves from an infected farm in their first episode with the disease in early 2018. They described it as "a dreadful time in our lives and for our family to have to go through."
Early this month, various news outlets reported that another of their three farms was under suspicion, because of trace animals they had bought in to restock in September 2018 after their property was cleared from the initial outbreak.
However, a first round of blood tests on the herd has come back negative and as this issue of Dairy News goes to press, Walling said the second round had also shown the disease non-existent.
"We're just waiting for the paperwork but they've pretty much told us we've come through clear now."
"At the end of the day it's good to know they are following up on all these traces if we are to have a chance to rid the disease from New Zealand."
Walling was full of praise for the Ministry for Primary Industries staff who handled the latest scare.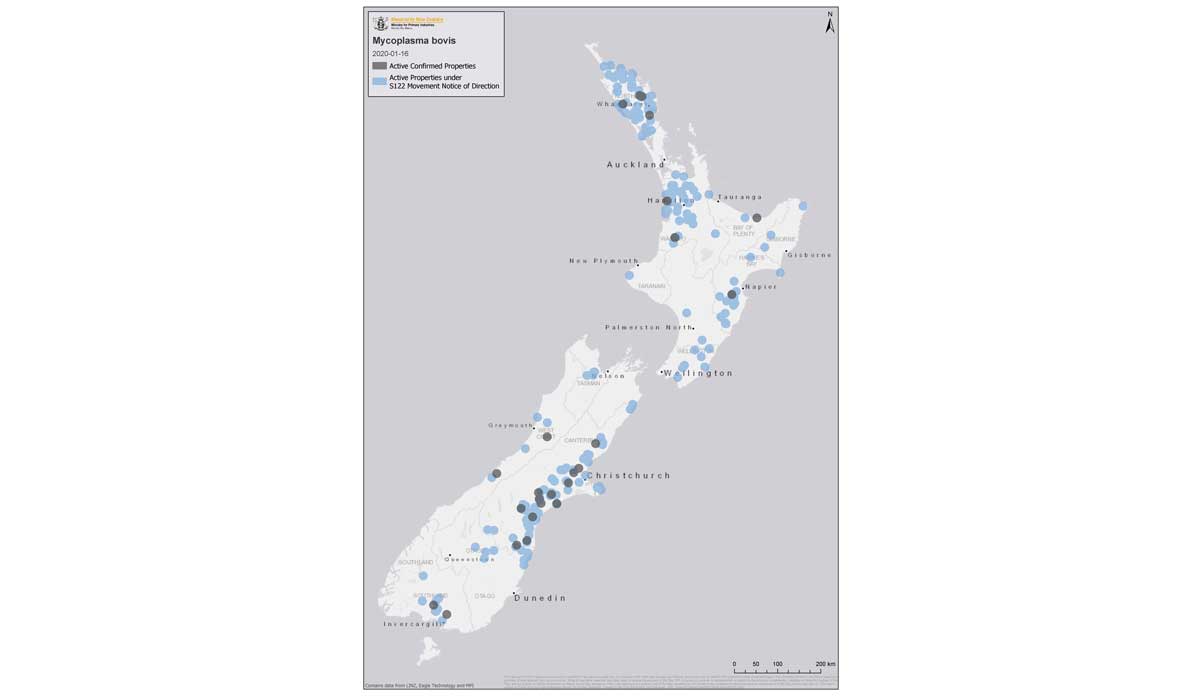 An MPI map showing properties under legal controls as of 16 January 2020.
MPI was a different beast to what it had been two years ago and there was no reason for any farmer to fear the process, he said.
"They know what they're doing. I could not rate them highly enough."
The good news also came on a day when the actual sun was shining. Walling said Lumsden's summer weather so far had been "absolutely horrific", with wintery weather continuing right through to Christmas.
"But every day it rains is a day closer to the sun coming out, so you just keep going."
Ben and Sarah run a large beef fattening and dairy grazing operation alongside an agricultural contracting business.
The latest scare had resulted from a three-step trace – they had bought in some bulls which had been in contact with some animals which themselves had possibly been in contact with an infected animal.
Flintoft said it was disappointing that some of the farmers they had purchased animals off in the past year were still not up with fulfilling their side of the NAIT requirements correctly.
"We have seen firsthand the benefits of the system which can only work properly if everyone does their bit," she says.