The distillery, an enterprise from Rob and Toni Auld, makes a range of three gins from a base alcohol of oats, wheat, and barley.
Auld Farm Distillery has achieved multiple world firsts with their products, something not entirely uncommon for an arable sector seen as world-leading in several categories on the international seed market.
Also a winner was Federated Farmers arable executive member David Birkett who was named Arable Farmer of the Year.
Birkett, who farms at Leeston, Canterbury, was noted as a recognized leader in environmental and sustainable farming, with a focus on soil quality. He is open to trialling any approach to reduce synthetic inputs, like biological products, cover crops, retaining straw, and is always willing to share his knowledge and results.
Former Federated Farmers national vice president Karen Williams with her husband Mick received the Environment & Sustainability Award.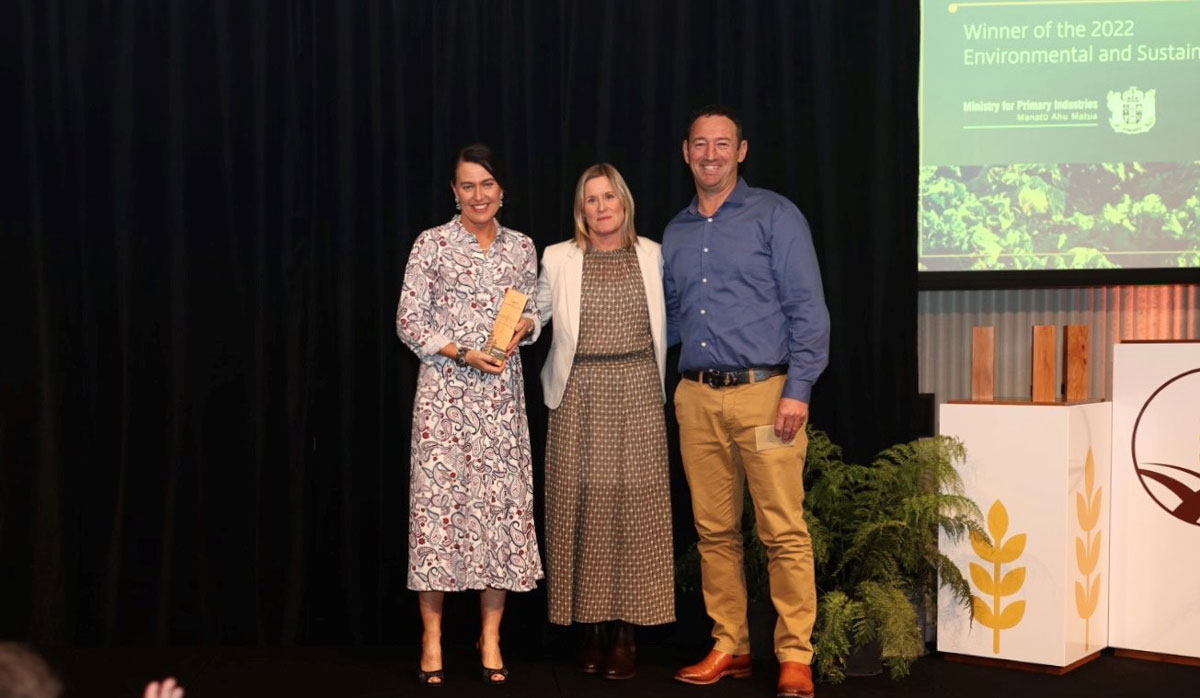 Karen Williams (left) and husband Mick Williams (right) were presented with the Environment & Sustainability Award.
Angela Clifford was named the 2022 Food Champion for her passionate advocacy for the arable industry. Clifford founded the organization EatNZ, which she uses to promote New Zealand-grown and produced food.
Full List of Winners
Agronomist of the Year: Roger Lasham, Ashburton
Grower of the Year – Grain: David & Anna Irving, Larnark Downs, South Canterbury
Grower of the Year – Small Seed: Hamish Marr, Methven
Grower of the Year – Maize: Chris Pellow, Chris Pellow Produce, Waikato
Emerging Talent Award: Lauren Beattie, Rakaia, South Canterbury
Environment & Sustainability Award: Karen & Mick Williams, Ahiaruhe Farm, Wairarapa
Arable Farmer of the Year: David Birkett, Birkett Farming, Leeston
Innovation Award: Rob and Toni Auld, Auld Farm Distillery, Southland
Arable Food Champion: Angela Clifford, EatNZ