And the 2022 Share Farmer of the Year Will Green rightly pointed out in his acceptance speech that red wave wasn't about the Labour Party but Canterbury.
For the first time in the Awards 33-year history Canterbury/North Otago has achieved a clean sweep of all three major categories and the Fonterra Responsible Dairying Award, with national finalists from that region taking home the silverware.
Joining Green on the podium last night, Jaspal Singh, the 2022 New Zealand Dairy Manager of the Year and Peter O'Connor, also from Canterbury/North Otago, was announced the 2022 New Zealand Dairy Trainee of the Year. They shared prizes from a pool worth over $200,000.
The winners were announced at a Gala Dinner held at Te Pae Christchurch Convention Centre on Saturday, in front of more than 540 people, making it the largest dinner to be held at the new venue since opening.
Green has tasted success before in the New Zealand Dairy Industry Awards as the 2018 Canterbury/North Otago Dairy Manager of the Year and was also awarded that year's National Runner-Up title.
Originally from the UK, the 34-year-old holds a Degree in Agriculture from Harper Adams University and enjoys farming as it gives him the opportunity to work outdoors and with livestock.
Will is a 34% share milker on the 270ha Dairy Holdings Ltd Hinds property milking 1060 cows.
Share Farmer head judge, Guy Michaels from DairyNZ, says Will impressed the judges with his contagious energy, accuracy and his constant business reviewing, looking for opportunities to learn.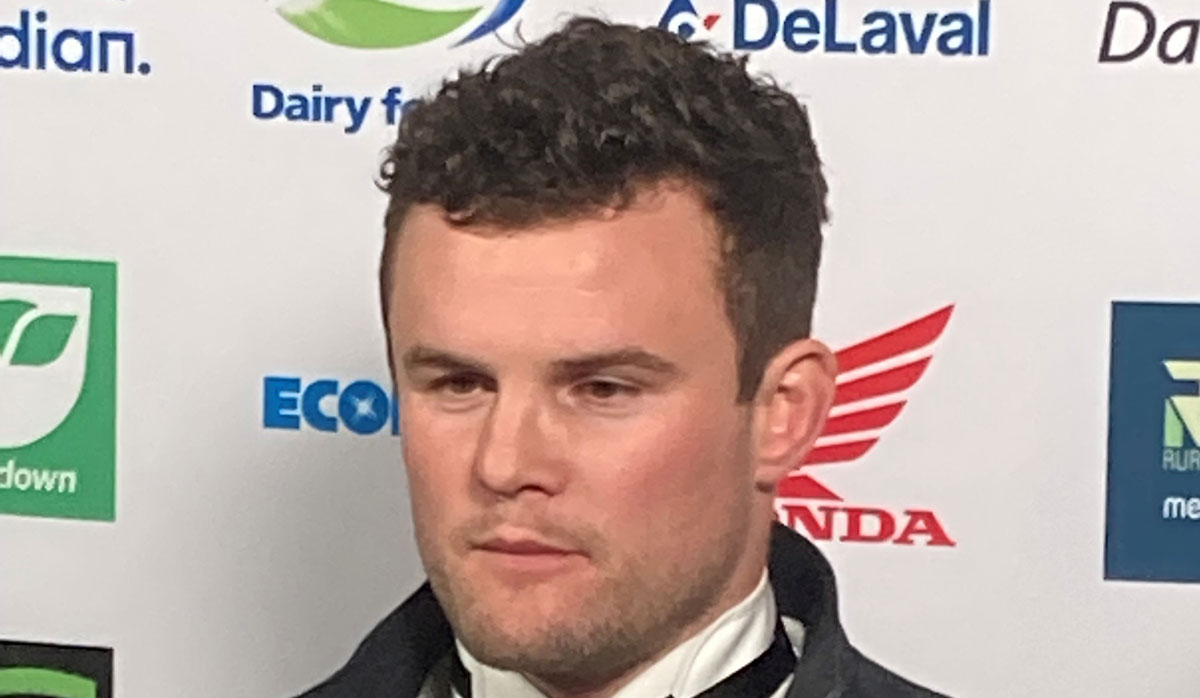 2022 Share Farmer of the Year Will Green.
"He's a great example of somebody who has come to New Zealand and recognises the opportunities the New Zealand dairy industry offers and has embraced the system, which is completely opposite to what he was used to back home".
Singh stood out as an immigrant who is professional, detailed, diligent and possesses a desire to succeed with a dedication to growth.
"From the moment we entered the farm gate to the time we left, we witnessed an immaculately presented farm and a polished and professional presentation which highlighted Jaspal's knowledge and sense of responsibility for the farm's management and performance," says Dairy Manager Head Judge Gray Beagley from DairyNZ.
"Jaspal displayed his dedication to learning, growth and a strong desire to succeed in the New Zealand Dairy Industry and he also inspires others to excel, by mentoring and sharing knowledge."
O'Connor from Canterbury/North Otago was described by the judges as a mature, capable person with extremely strong practical skills.
The Dairy Trainee judges say the first-time entrant is strong across all fields and does the basics very well.
"Peter is an intelligent, generational-farmer who is perceptive and articulate – farming is in his blood," says Dairy Trainee head judge Nicky Allomes.
The 23-year-old grew up on a dairy farm near Westport and was actively involved in the family farm and its development. He obtained a Bachelor of Agricultural Science (First Class Honours) from Lincoln University and worked a variety of jobs during holidays.
Craigmore Farming Services, Canterbury/North Otago, were named the 2022 Fonterra Responsible Dairying Award winners during the New Zealand Dairy Industry Awards on Saturday night and received the John Wilson Memorial Trophy.
The prestigious award was introduced by the New Zealand Dairy Industry Awards and Fonterra to recognise dairy farmers who demonstrate leadership in their approach to sustainability and who are respected by their fellow farmers and their community for their attitude and role in sustainable dairying.
"It was a privilege to engage with all three finalists and the quality of the presentations was exceptional," says head judge Conall Buchanan.