The following time/temperature requirements are a minimum standard for the cooling of milk; dairy operators should be striving to cool their milk to standards better than the rules.
Unless used immediately for further processing, milk must be primary cooled after filtering, cooled to 18˚C or less at the completion of the first milking into the bulk milk tank, and should not exceed 13°C at the completion of subsequent milkings.
It should be cooled to and maintained at 7˚C or below within 3 hours of the completion of milking and kept at or below 7˚C until it is collected or the next milking.
In the case of automatic milking systems (robotic milking systems) milk must be cooled to 7°C immediately after harvesting and held at 7°C or below until collection.
Documented milk cooling checks must be done at least twice per season to demonstrate compliance with the above standards.
Corrective action must be taken if these standards are not being met at any time.
The milk cooling curve (figure 1) can be used as a guide for compliance for the first and subsequent milkings into the vat.
It is recommended that the temperature of the milk be maintained at 4˚C - 5˚C, and the temperature of any stored milk be checked prior to each subsequent milking.
Any system is acceptable if it can be seen to meet the regulatory and company's requirements for cooling. A record of milk temperature at collection or use must be available for independent confirmation.
The following raw milk cooling standards apply;
Raw milk must:
a) be cooled to 10ºC or below within four hours of the commencement of milking
b) be cooled to 6ºC or below within the sooner of:
i) six hours from the commencement of milking,
ii) two hours from the completion of milking; and
c) be held at or below 6ºC without freezing until collection or the next milking; and
d) must not exceed 10ºC during subsequent milkings.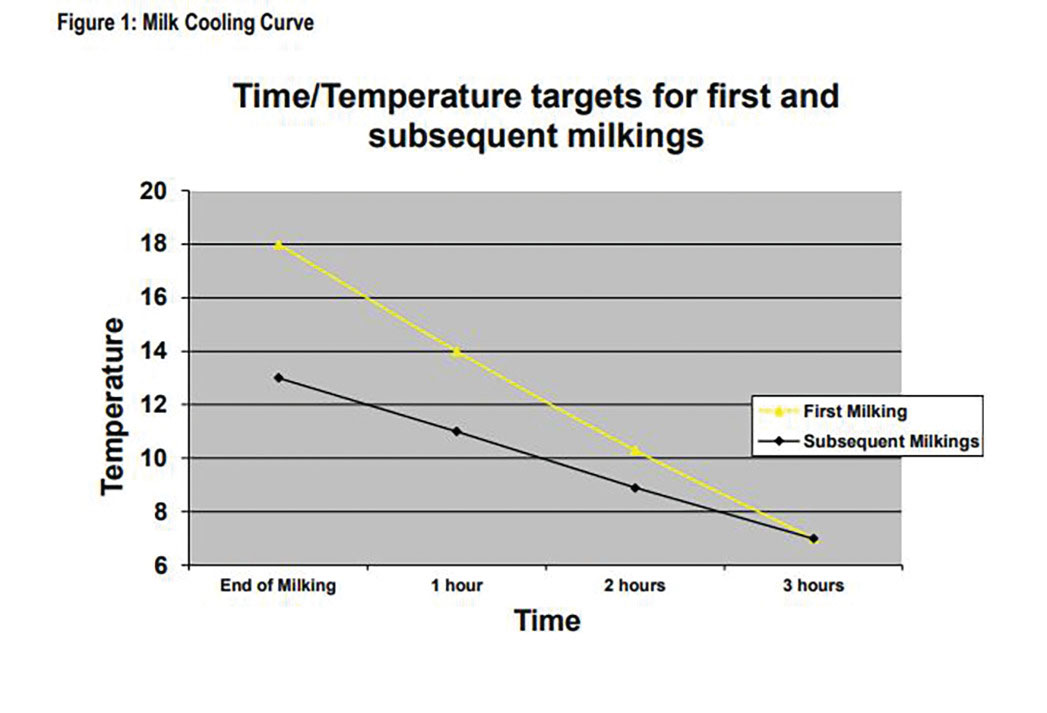 In situations where there is continuous or extended milking, such as automated milking systems, the milk must enter the bulk milk tank at 6°C or below.
Think about how to improve the cooling performance of existing equipment.
Farm dairy operators should consider an upgrade to primary cooling or secondary bulk milk tank refrigeration; discuss options with your dairy company, farm dairy assessor or refrigeration before spending capital.