Milking 190 Holstein Friesian cows on 68ha effective on Waitara, Wayne and wife Leeanne's farming businsess Muritai Holsteins has three bulls included in the 2022 Holstein Friesian NZ Genetic Leaders team, a scheme they have supported since its inception in 1995.
"We have always had loyalty to supply bulls to the association' breeding scheme because it's breeders working for breeders," Wayne says.
"We have been fortunate enough to have had several bulls included in Genetic Leaders' teams over the years."
Genetic Leaders aims to prove young sires for HFNZ members with the aim of receiving marketable proofs and adding value to the future of New Zealand farming by increasing efficiency and production.
At least six bulls are selected to be sire-proven each year. The team is chosen following a rigorous selection process starting with the nomination of high-merit bull calves by HFNZ members, with eligible bulls having a DNA sampling taken for genotyping.
Once the team is selected the young bulls are housed at CRV and marketed through both CRV, in its Progeny Test herds, and Holstein Friesian NZ.
The Taylors' latest inclusions into the Genetic Leaders team - Muritai Bless Website S3F, Muritai Hustler Watchme-ET and Muritai Dubai Soul-ET-P - have a variety of outstanding traits.
Soul brings polled and red possibilities to the table, in conjunction with strong production genetics: Soul's great-granddam, Waipiri Oman Soul, holds the New Zealand record for top-producing three-year-old Holstein Friesian cow with 1,292kgMS.
Watchme combines three extremely strong cow families - Busy Brook's 'F', Maire's 'G' and Muritai's 'W' families - to create an outstanding pedigree animal, and Website's dam line has consitently achieve Production Worth (PW) in the 700s, reflecting their strong production.
"The Muritai 'W' family makes up around 70% of our herd," Wayne says.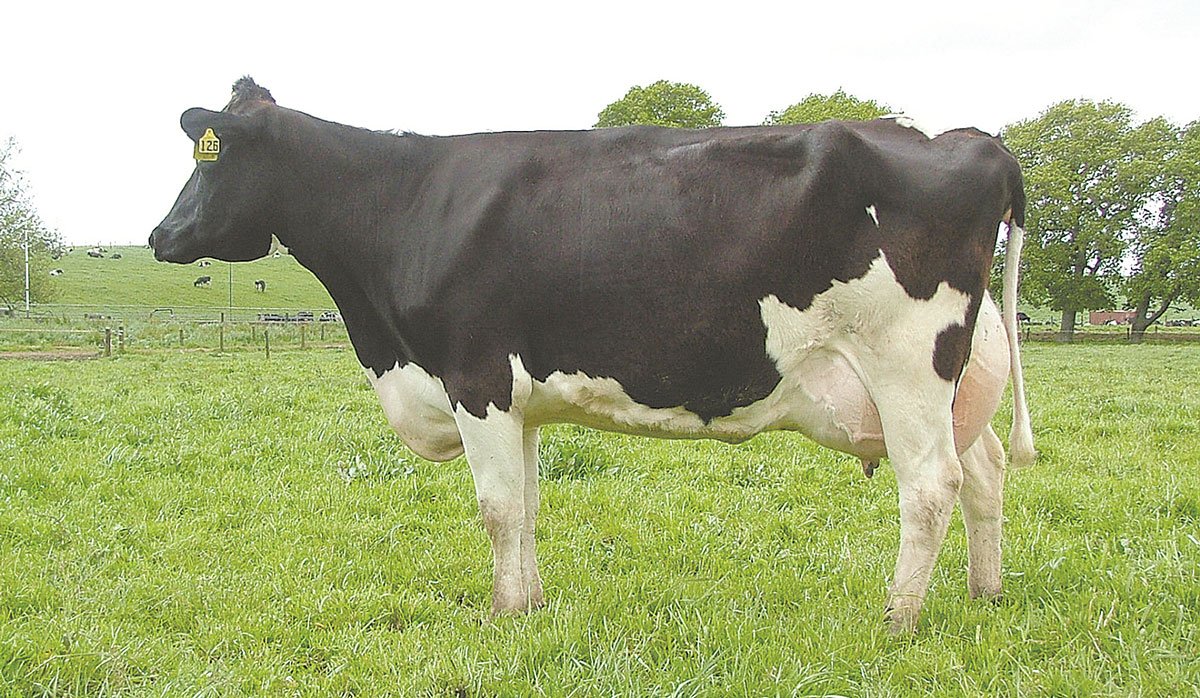 Muritai Holsteins says good udders have become their point of difference.
"Good udders are their strongest trait, and one we have tried to maintain and focus on. We are not driven by indexing so udder traits have become our point of difference."
Wayne also says they are not afraid to use outcross genetics to achieve diversity.
"It has been a concern of mine that New Zealand bloodlines can become too closely related, so outcross genetics can again give us a point of difference."
HFNZ geneal manager Cherilyn Watson says purchasing semen from the Genetic Leaders team means accessing young, genomically-tested sires of pedigrees Holstein Friesian lineage at a cost-effective price.
Bull breeders themselves also benefit from the scheme, receiving genomic information for all bull calves selected. And with breeders who have bull calves accepted into the Genetic Leaders team required to sign into a contract with CRV, they are given the choice of a Royalty Option or Graduate Option as part of the agreement. HFNZ receives royalties under both options.
"There is a high success rate of sire-proving through this scheme," Cherilyn says.
"This year, Genetic Leaders' graduates Meander Shot Alibi-ET S3F and Rivendell Gforce Axel are being marketed by CRV once again, with newly graduated Rivendell MFU Scotch, who was part of the 2018 Genetic Leaders team, being marketed by CRV as a daughter-proven sire for the first time in 2022."
2022 Team
This year seven young bulls have been chosen for the team.
Muritai Dubai Soul-ET-P brings polled and red genetic possibilities to the table, coupled with strong genetics from the memorable Waipiri Soul cow family. Soul has a fat BV of 57.
Waiokura Bubba Roadshow has distinguished lineage that includes Maire IG Gauntlet-ET, Mainstream Manifold and Cogent Supershot BLF BYF CYF, Roadshow supports high production with Udder Support BV of 1.25 and Udder Overall BV of 1.16. His dam, from the Waiokura 'Ruby' family, was a good producer with a PW of 509 and excellent production as a two-and-three-year-old.
A son of Busy Brook MG Hustler S3F, A2A2 bull Muritai Hustler Watchme-ET has an Udder Overall BV of 1.14.
A2A2 bull Buelin Nippon Winchester combines renowned Muritai 'W' cow family with 2020 Genetic Leaders team member and outcross bull CRV Delta Nippon-P.
With Udder Overall BV of 1.06 and Udder Support BV of 1.11, Wynchester offers strong traits to support milk production.
Carse-O-Fern SE Producer looks to live up to his name with a Fat BV of 54, strong Udder Overall BV of 1.30, Dairy Conformation BV of 1.13, and a tremendouse Rump Width BV of 1.18.
Producer combines outcross genetics from Silverridge V Einstein with Carse-O-Fern's strong 'Peake' cow family, with Maire Mint Fire-Up and Tahora Taylormade-ET also featuring in his lineage.
Melarry SSI Ren Filimore offers outcross genetics in combination with Rivendell's 'C' family to produce an A2A2 bull, Rivendell MF Craig-ET, with plenty to offer. Craig's dam, Rivendell Griff Carren, has a PW of 522 and LW of 548, while grandsire S-S-I PR Renegade-ET needs no introduction, passing his solid traits on to Craig with an outstanding Udder Overall BV of 1.42.
Extreme indexing is a feature of A2A2 bull Muritai Bless Website S3F, with his dam line having consistently achieved PWs in the 700s.