On dairy farms, around 85% of the antibiotics used are for mastitis control, including antibiotic dry cow therapy (DCT). And one area where we are actively reducing antibiotic use is by using DCT selectively.
In most herds, less than 10% of cows are infected with a major pathogen at drying off, so selective DCT is a logical approach for many. But how do we choose which cows should received DCT at drying off? and if there has been a bad experience in the past, what considerations should we include this time to minimise risks?
Using SCC
Herd test somatic cell count (SCC) is currently the most practical tool for selecting which cows need antibiotics. Use a cow's highest SCC value, but if the farm doesn't herd test regularly, trials have shown a herd test within the last 80 days of lactation is sufficient, so a random one could be booked specifically.
Generally, infected cows will have a higher SCC but some infected cows have a relativel low SCC and some uninfected cows have a higher SCC. So when selecting a SCC cut-point we are trying to minimise the number of infected cows that are missed as well as avoiding giving antibiotics to uninfected cows.
But there is no magical number and you and your veterinarian will need to determine the most appropriate cut-point for your farm. And if there is no herd testing information available at all, a rapid mastitis test (RMT) performed immediately before drying off is a viable option.
Other risk factors
Cows that have been treated for clinical mastitis throughout the season or have been confirmed by bacterial culture should also be included in the DCT treatment group. And another group of cows that should be considered even if they don't have clear evidence are older cows producing high volumes.
The latest research has found that animals over four years old who were producing more than ten litres of milk at the last herd test were twice as likely to develop clinical mastitis during the dry period and may benefit from receiving DCT.
The research also highlighted that management of cows around drying off and the level of hygiene during the process needs to be vigilant. Steps need to be taken to reduce milk yield prior to drying off cows as well as their physical management after dry-off. If there are problems in the dry period, it can often be attributed to unfavourable conditions through the processes surrounding drying off.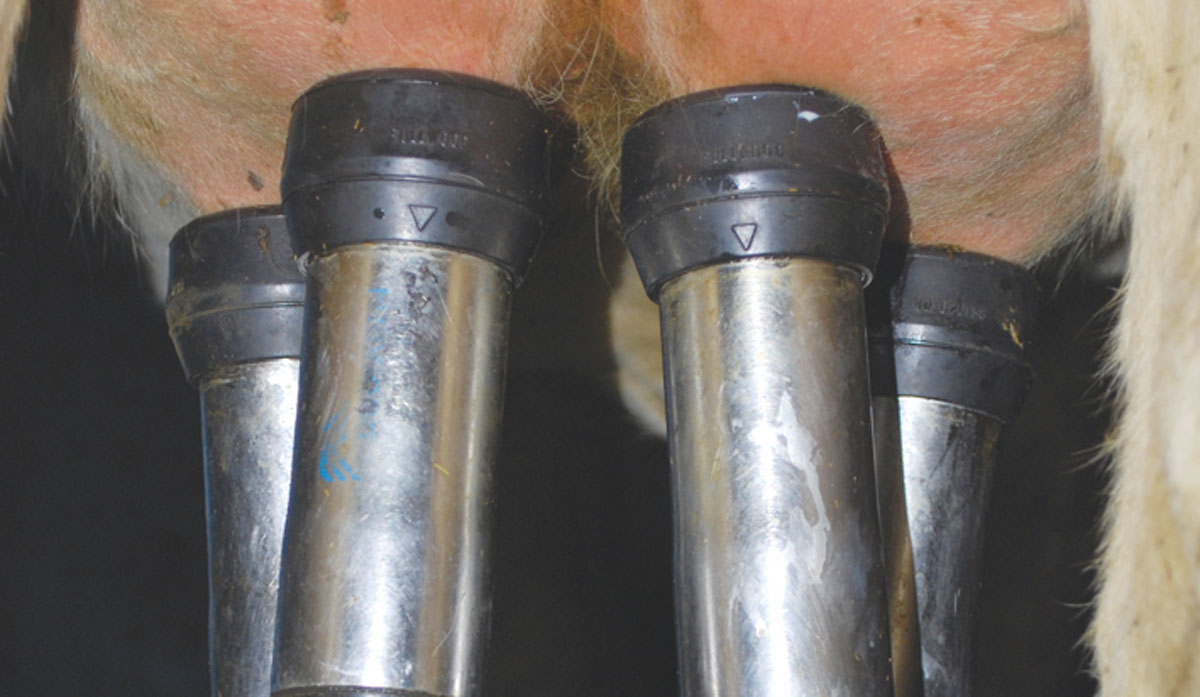 Steps need to be taken to reduce milk yield prior to drying off cows as well a their physical management after dry-off.
Many vet teams have technicians drying off large numbers of animals and it can be worth considering utilising the professionals to minimise as much risk as possible. Talk to your vet about training and support to ensure the drying off process runs smoothly.
Further protection
Selective DCT doesn't mean leaving the rest of the herd exposed. If cows are left unprotected, there is a high chance of developing an infection during the dry period.
Using internal teat sealant (ITS) provides an effective barrier and reduces the new infection rate by about 70% over the dry period.
But if an infected cow was missed from the DCT treatment group, research shows they are likely to still have a good outcome if they have at least been given ITS. They had a high self-cure rate comparable to cows that received DCT.
And the data shows there is a lower risk of clinical mastitis in the next lactation if they receive ITS, compared to glands that received no treatment or DCT alone. So all cows should receive ITS and some cows will receive the combination of DCT and ITS for the best chance of protection.
There are no hard and fast rules or exact ways of determining which cows should and shouldn't receive DCT. Work with your vet to assess your farm when making the plan for drying off this season and have the confidence to look at options as we move away from a 'one size fits all' to a more targeted approach.
Samantha Tennent is general manager WelFarm Ltd