MyNoke is headed up by German soil scientist and worm specialist Michael Quintern. Vermicomposting converts valuable nutrients from landfills into vermicast, mature soil humus, and removes the usual route to waste/
Quintern says the process ensures nutrients are recycled and returned to the soils from where they originally came.
"We used 600-million-year-old technology to convert 250,000 tonnes of organic waste into black gold in 2021, using an underground workforce (worms)," he told Rural News. "With around 3 billion of them, it's important to keep the worms happy and well-fed."
That 'black gold' is pure, mature earthworm castings - called vermicast. This typically comprises 30% organic matter, 1% nitrogen, 0.5% phosphorus, alongside trace elements such as sulphur, potassium, magnesium, calcium and sodium.
"With a carbon to nitrogen ratio of 15:1 this makes it a mature, stable humus with a neutral pH of between 6.8 and 7.1," Quintern explains. "The vermicast is high in beneficial soil organisms, bacteria, fungi, mycorrhiza and protozoa, which are all essential for soil health."
MyNoke's first operational vermi-composting site was intentionally positioned at Kinleith Paper Mill. Initial vermicomposting trials were held here in 2007. This was followed by a oneyear contract to prove the theory that, taking the fibrous waste from the paper processing plant and mixing it with other waste and then feeding it to worms, the operation could create a valuable soil conditioner.
That initial research and development resulted in a signed 20-year service agreement and rapid growth in the take-up of the vermicast products by farmers and growers.
Further expansion was planned just as Covid- 19 hit. However, those expansion plans were developed with the help of business coach Phil Holland, who eventually joined MyNoke as general manager in January 2021.
"I know how to feed animals, and worms are just another animal," Quintern adds.
"But we don't have fences, so we can't force the animals to eat the food provided.
"If we get it wrong, they bugger off. That's a great incentive to get the menu right— a bit like hosting a party."
Consequently, he takes care to ensure the ingredients are right for the worms, starting with each vermi-composting site having a centralised reception and feedstock mixing area. From here, worms are fed on-site, or the feed is transported to local farmers' on-farm worm farms.
Mixing and feeding out fulfill a crucial role in the production cycle, a job falling to Jaylor mixer wagons. The machine combines the locally sourced waste that may have come from a paper mill, abattoir, dairy, kiwifruit orchard, food processing plant or a wastewater treatment plant.
"All our waste is organic and certified safe," Quintern adds.
Once the feed has been loaded and mixed, a telehandler is used to load German-built Fliegl push-off trailers. This will soon be joined by a third unit, following the expansion plan that has seen processing increase to 685 tonnes per day, currently over five sites.
With a need to move blended feed to the worms efficiently, the push-off trailers remove the issue of traditional tipping trailers associated with a high centre of gravity and instability. The push-off trailers feature a piston activated pusher plate within the body. This travels backwards to deliver a layer of worm feed 50 to 80cm deep over the windrows.
To develop the best final product, the operation must ensure that the worms have eaten all their feedstock in a fixed timeframe. This is achieved by delivering a regular, consistent, and measurable amount of feed.
GPS monitoring automatically records exactly when, where and how much feed is delivered to the worms. This feature will become more important as the farmer, regional council and MyNoke must record how much waste has been taken to each farm, for complete traceability.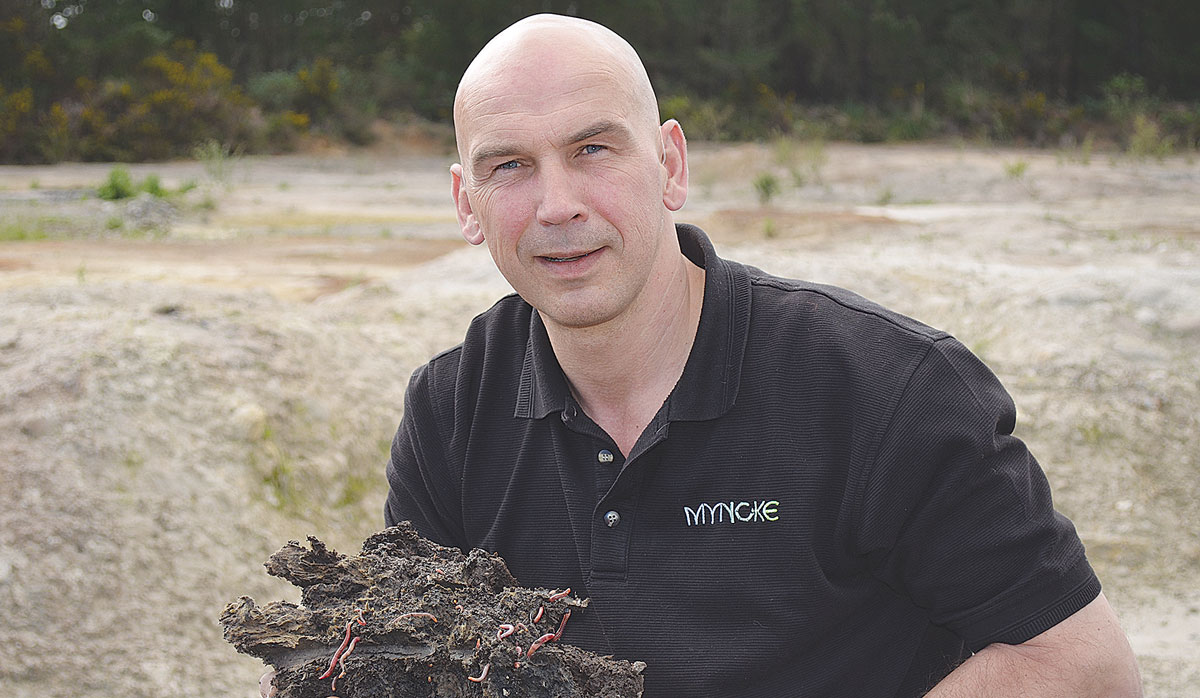 Michael Quintern
With reliable machinery being a pre-requisite, each site requires two tractors, mixer wagons, two trailers, and two tele-handlers. Over time, there is a plan to standardise the brands within that machinery fleet at all MyNoke sites, so their people and machines are easily interchangeable.
"Our team is our biggest asset," Holland told Rural News. "Therefore investment in quality machines helps provide them with a comfortable, safe environment and the best tools they can possibly have to do their jobs."
As farmers and growers around the country see the benefits of vermicast as a viable alternative to use with non-organic fertilisers, the company is currently investigating vermi-composting sites near Mercer, Matamata, Bay of Plenty, Napier, Gisborne and even Timaru. However, it is the Chatham Islands that could become the first region in New Zealand to become truly organic waste-free.
Each of these new sites has the potential to expand the 'Worm Farms- On Farms' scheme.
"A farmer with 50ha needs 5,000 tonnes of vermicast a year, so he may lease 1ha of his land to MyNoke for a worm farm," Quintern explains. "Within a year, MyNoke can produce enough vermicast for the remaining 49ha."
He says the worm farm then becomes a part of the farm's rotation and moves to the next paddock after one year – improving the soil it has been sited on and providing high-quality vermicast for the rest of the farm. The long-term result is increased humus levels and sequestered carbon.
"MyNoke is currently preventing 250,000 tonnes of organic waste from entering landfills every year," Quintern says.
"We hope to take that amount up to 1 million tonnes a year New Zealand- wide. As landfills reach bursting point, the opportunities seem endless."