While New Zealand agriculture has remained a bystander for now, it may be impacted by this offshore turbulence if a trade war isn't averted.
Since March 1, when Donald Trump announced he would impose tariffs on steel and aluminium imports, the US and China have engaged in a war of words, exchanging threats to penalise each other's exports that have escalated with every round. 
The past six weeks have seen several key stages in the skirmishes. 
First up, China announced its intention to put tariffs of 15% or 25% on a list on 128 products imported from the USA in retaliation to steel and aluminium tariffs. Many of these were agricultural – products including pork, wine, nuts and fruit.
In addition to steel and aluminium, the US then pledged to levy tariffs worth USD 50 billion on imports of various products from China (largely non-agricultural in nature).
In response, China announced a list of a further 106 US products that would be subject to a 25% tariff. Of these, 33 were Ag related and included the big one for US China trade – soybeans. Also included were sorghum, wheat, cotton, beef, corn and frozen orange juice (Notably, China has not so far targeted dairy shipments from the USA). 
Not to be outdone, the US then pledged to look at imposing an additional USD100 billion in tariffs on imports from China with the specific products targeted yet to be decided.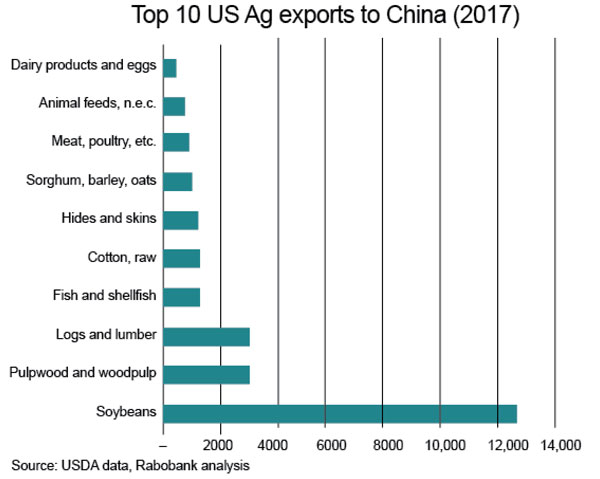 And China came back by threatening to impose a 179% "tariff' on imports of US sorghum
An important point to note here is that most of these threats are yet to be implemented, and so there is still time to avoid a trade war. Only the tariffs on the Chinese 'list of 128' plus the Chinese "tariff" on sorghum are now in place. As such, the US and China have given themselves time to negotiate, and it is still possible that all this could be avoided.
However, given the recent momentum of this dispute and lack of evident negotiation so far, consideration should be given to what it would mean for New Zealand agriculture if all these threats are implemented.
Ironically, in the early stages of such a trade war it might appear that New Zealand agriculture is winning from it. Capital is likely to fly to safe havens, and push our currency down against the US dollar, increasing our competitiveness in world markets. Chinese tariffs will make US products more expensive in China, opening up some additional opportunities for New Zealand exporters of products like wine and beef. 
To what extent we benefit would depend partly on how much the US can manage to ship product into the Chinese market via other channels (including Hong Kong), how other competitors respond (such as Australian in beef) and on the redirection of shipments from the US into other markets where we compete (like South East Asia).
However in the long term, Rabobank believes New Zealand agriculture would emerge a loser from a trade war between China and the US. A significant trade war would slow global economic growth, impacting demand for our products. As an export-oriented sector, we would lose much from the shift away from a rules-based system in global trade. 
The US may exert pressure on New Zealand not to benefit from any penalty imposed on them in the Chinese market. And if tensions between China and the US continue to rise, it is quite possible that at some point we would be asked to choose which market we trade with between these two giants.
Besides watching with alarm, there are a few things we can do to respond to rising tension between China and the US. Producers, processors and traders have a range of risk management tools they can use, and should consider whether deploying them makes sense for their situation and risk appetite. 
More broadly, rising tensions highlight the merit in having a range of trading relationships that diversify our risks between various markets. In the current context, the merits of free trade agreements with markets like the EU and India look stronger.  
Of course, this may all yet blow over and look in retrospect like pure theatre. But planning for unpleasant possibilities is what risk management is all about.
• Want to keep up-to-date with the latest food & agribusiness insights? Tune into RaboResearch Food & Agribusiness Australia & New Zealand podcast channel. Most Apple devices have the Podcasts app preinstalled— if not, you can find it in the App Store. These are also available on Android devices.