Since the first vintage in 1997, the brand has acquired a formidable global reputation for its Pinot Noir. Its story begins in 1990, when 50-year-old Stuart Elms gave up his blackcurrant farming business and went back to school, signing up as a mature student in Lincoln University's viticulture and wine science course.
His goal was to make great Pinot Noir and, after extensive soil and climate research, he found a perfect exposed slope just off Felton Rd in Bannockburn. After persuading a hay farmer to sell the land, he began meticulously planting The Elms vineyard. In 1997, young winemaker Blair Walter, who had been Stuart's lab partner at Lincoln, made the first official Felton Road Pinot Noir. A bottle of the Block 3 ended up in front of renowned wine writer Robert Parker, who famously declared it good enough to be used as a ringer in a blind tasting against the very best Burgundies. One vintage in, and Felton Road was on the map.
At the same time, another person down the road was on their own Pinot pursuit. Having sold his London marketing agency, Nigel Greening had decided to live in New Zealand for a year. Already aware of the early Central Otago Pinots and their potential, he settled in Wanaka and began a search for the right site, recruiting help from Gibbston Valley founder Alan Brady.
Nigel purchased an apricot orchard called Cornish Point in 1999 and began to rip up the trees to replace with vines. Just a year later, word reached him that Felton Road was up for sale. With Alan acting as intermediary, Nigel put in an offer and within three days was the proud owner of his favourite wine. Today, the winery has grown to encompass four vineyards in Bannockburn, with 32 hectares of grapes as well as a similar amount of hill country dedicated to farming.
Felton Road's export markets were mainly developed between 2000 and 2006, says Nigel. During this time, Central Otago Pinot Noir was attracting international attention and global demand was strong. There had been a huge increase in Pinot plantings in the region through 2001-2003, and Nigel was aware that this would lead to a sudden flood of wine onto the market.
He created a bold business strategy, centred on first and foremost spreading the limited production thin to build a formidable international brand. "Our rule was simple: look at a market. Is there a demand for fine wines? Are the great wineries of the world represented in the market? If they are, we need to be there."
The method for opening new markets was simple. "We would research the market by looking at the portfolios of the distributors there to see who was selling wines we like to be seen with. You quickly find who has the good names on their list. Then we would arrange an introduction." They would find a respected intermediary or matchmaker to open the conversation, says Nigel. "This has almost always worked."
Once Felton Road was established in the market, they would visit often to nurture relationships, even when it didn't necessarily make financial sense. "You need to commit to a partner and encourage them to engage with the wines," says Nigel.
ategy was becoming a 'zero growth company' as part of Felton Road's environmental sustainability commitment. "We set the size - no more than 150,000 bottles - in 2000 and reached it in vintage 2006. We have not grown since." Most of their export growth was before 2006, says Nigel, and since then they have only added smaller markets or fine-tuned existing ones.
Felton Road now exports to approximately 40 countries and is frequently ranked high in the Drinks International magazine's 'World's Most Admired Wine Brands' list. Remarkably, they have earned their reputation without a sales team and without a marketing budget, with Nigel and Blair splitting the market visits between them.
Nigel's main objective is always to be regarded as a key producer of fine wines on the global stage. "We get there through a combination of a relentless pursuit of quality, ignoring hype (including social media), setting the very highest environmental and ethical standards, supporting and nurturing our staff, and being perpetually curious."
Their strategy has started to change slightly under Covid-19 circumstances, Nigel adds. "We have actually pulled back on the percentage of wine that we export… we are always short of wine and determined that our domestic customers should be offered a preferred supply."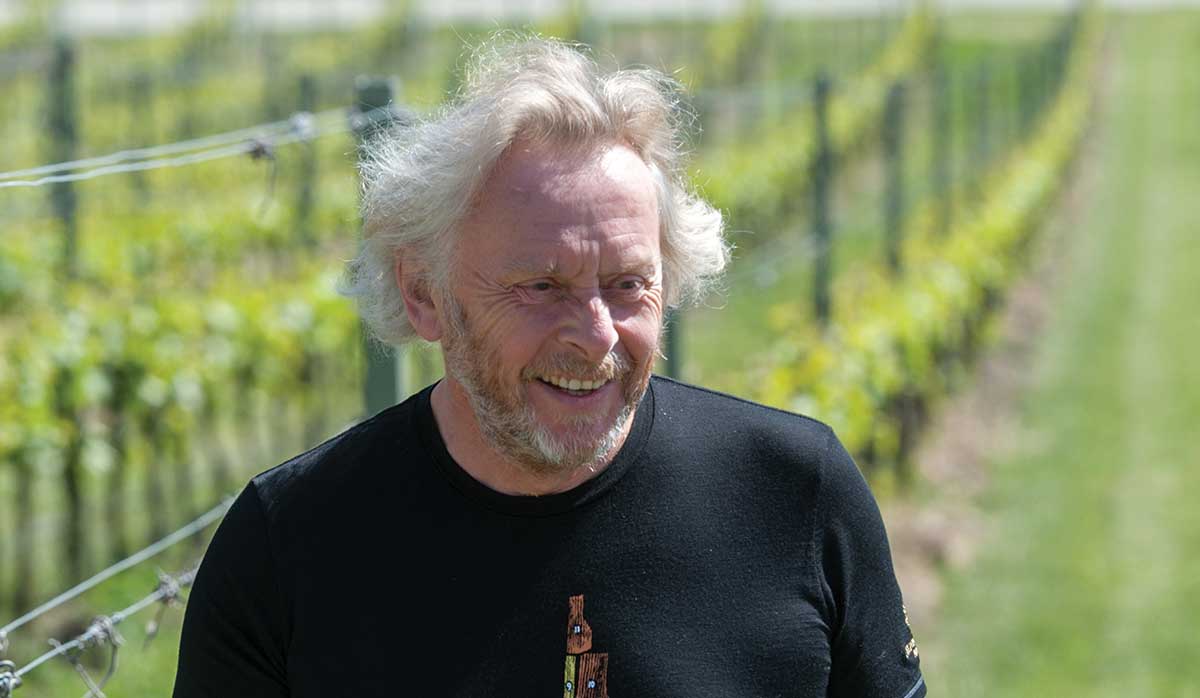 Nigel Greening.
Felton Road has seen a small fall in domestic restaurant sales, but their retail and direct-to-customer is up, and exports are currently around 60 percent (down from about 69 percent) of production. "This is not due to any drop in export demand, simply a response to the surge in domestic sales, which we'd like to be able to honour," says Nigel.
Blair and Nigel are passionate about wine - not just their own brand - and would often attend events just out of that love for wine and meeting other makers. "We know many of the key producers around the world, often as personal friends", says Nigel. These friendships have helped develop awareness of their brand, as they extend to other people of gravitas within the wine community. "They know we love being part of the world of wine, not to sell our products but because great wines are an important part of our life. So, we are part of that world wine club of producers, sommeliers, buyers, journalists, authors, critics."
There is no better time to engage with the world as a New Zealand company, says Nigel. "Research your markets and your competition thoroughly and respect them, don't criticise them. You will make sales by speaking to a buyer and showing them that you know exactly how good the competition are. Be enthusiastic about their strengths as well as selling your own. You'll be seen as knowledgeable, fair and honest, and nothing is more important in building international relationships."
This story is part of the New Zealand Winegrowers' Milestone series, celebrating New Zealand wine's export history, which can be found at nzwine.com