Displaying items by tag: AUCKLAND HERD IMPROVEMENT ASSOCIATION
Sunday, 08 November 2015 10:55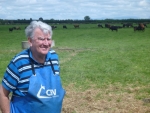 56 years is a long time to stay in any one job, but it seems an especially long amount of time to spend working with your hand up a cow's rear end.
»

Latest Print Issues Online
Sweden's milk war is now being played out on television.
The proposal to relocate Auckland Port to Northland continues to float in open waters.