Sunday, 08 November 2015 10:55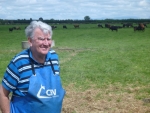 56 years is a long time to stay in any one job, but it seems an especially long amount of time to spend working with your hand up a cow's rear end.
»

Latest Print Issues Online
Kiwi farmers are not the only ones nervous about their future as a result of politicians throwing them under the…
Could a pink seaweed hold the solution to our methane emissions problem? Australian scientists think so.