During this time, smug souls from Bannockburn or Bendigo might be seen patting themselves on the back secure in the knowledge that they have once again seen off a climate catastrophe. They may even express a hint of sympathy for their grape- growing brethren in the nearby Gibbston Valley. After all, they are still two weeks away before the start of their harvest.
For a great percentage of viticulturists and wine makers in New Zealand, growing grapes in the Gibbston Valley is akin to lunacy. Even on the back of a long hot summer, picking times in the valley run perilously close to the arrival of winter. Many skeptical observers suggest that it's not possible to ripen grapes there; but that only steels the determination of those in the Gibbston to make wine that truly reflects the trials and tribulations, in the best possible flavors.
Many of the major labels in the Gibbston Valley have insurance policies, plots of grapes scattered throughout the rest of the Central Otago that will provide a buffer for production if the Gibbston grapes succumb to the climate. But, what if you only made wine from grapes grown in the Gibbston Valley? Surely that is foolhardy, even slightly bonkers...but the team at Brennan wouldn't have it any other way.
Nestled in the Valley of Vines and as the name suggests, Brennan is the passionate enterprise of the Brennan family. Sean Brennan who is the winemaker and proprietor spent his formative years growing up in North America, but even from an early age developed a love for a strange location at the Eastern End of the Gibbston Back Road.
"My father came here in the early 90s and decided to invest in a vineyard and winery which eventually became Peregrine wines. We had more or less been coming here every year of my life, and it's this incredible landscape that has always been something I wanted to be part of."
Initially selling the grapes from their original plantings to Peregrine, Sean Brennan decided in 2006 to take the plunge and start the Brennan label. Over the next few years, they gradually sold less and less fruit, converted the tractor shed into a winery and got busy growing their business. With 10 hectares of vines spanning an average age of over 10 years, Brennan now has some of the more mature plantings in this sub region. They are ideally placed to comment on some of the naysayers who venture that it's not possible to ripen grapes here.
"People who say that it's insane to make wine here are probably not too far off the mark" says Brennan. "We are very much growing on the edge of where you can produce fruit that makes great wine, but I think that is part of what makes it so unique. In the early days in Gibbston, the running joke was that the grapes were ready when the leaves fell off. The reality is that they are ripe sometimes before we even think they are ripe."
In any Central Otago vineyard, frost is a fact of life, but perhaps none more so than in the Gibbston Valley. Significant frost damage to vulnerable young shoots in spring can be catastrophic.
"During that period you sleep almost never, it's the nerviest time of the year. While the vines will re-shoot, obviously there will be less fruit. For years I can remember sitting in the office checking the temperature over and over, checking the flax-bushes to see if we had any wind, and it doesn't actually do you any good. It's best to go to sleep and when the frost alarm goes, get up and deal with it. Driving yourself insane for the things you can't change is not going to make better wine."
Typically during this time, Brennan will accompany the helicopter pilots from 3 in the morning to make sure that the power lines slung menacingly above the vines don't hook any rotors and also to keep an eye on what is happening to his precious plants below.
"So much of growing grapes here, is about understanding what happens on the land and that means seeing from the air what happens at 4am in a frost. It's every bit as good as walking through the vineyard. But even with helicopters flying every night, you can still spend $10-15k to still wake up without a vineyard, or not really wake up, more like step out of the helicopter."
One might think, that with such anxiety on an annual basis, Brennan would be tempted to implement some form of insurance policy, like having some of their grapes grown elsewhere? But, that would be underestimating the strength and conviction of their philosophy and Sean's own stubborn demeanor.
"Sure, there are some great wines coming from all over Central Otago, but the ones that I know best come from right here. You just accept that the challenges are what they are, and you do the best with what you get every year.
"By having a season that you basically have no buffer on, the vines are in this state that they have got to go now and they have to finish here. For me, that sense of tension comes through in the wines, it almost feels like you are sitting on a cliff face driven by the season."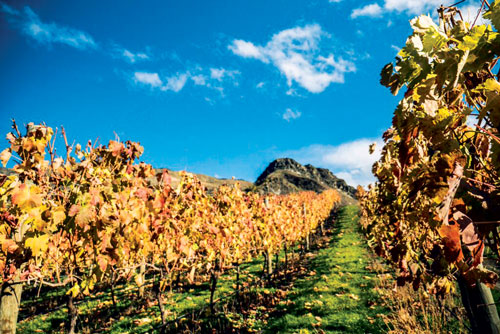 While Brennan's cavalier nature and obstinate philosophy might illicit admiration from outsiders, what about from those inside the organisation? Two years ago Sarah Burton moved about as far as you can get from the relative warmth and efficiency of Marlborough's Cloudy Bay to make wine in a tractor shed surrounded by jagged snow-crusted schist.
"I had been based in Marlborough for 10 years and I wanted to get more hands on, which is definitely what I got" she says. "I'm used to being hot and warm when the fruit is being picked, and here you need patience to work with the weather as you have a lot less control."
Normally, Brennan don't even think about picking until at least the 15th of April which was something of a bizarre initiation to the reality of Gibbston Valley for Burton's first harvest
"Yeah, we were coming up to the harvest and the leaves were starting to yellow off a bit, and I think Sarah was a little bit scared," says Sean.
"Not just scared, I was totally freaked out. If I was Sean I think I would have pulled all my hair out by now," says Burton.
This season, the team made the prudent decision to pick a couple of days earlier than planned due to an incoming weather pattern. Even though the sugar is a little bit lower than where they would normally harvest, Sean is beaming after tasting the initial results.
"The wines are every bit as good as any other season. As long as our acids are not through the roof, and the flavours are there and the tannins have started to really ripen in the skins, then you can make some pretty amazing wines and should do.
"Because each season is so different, you have an opportunity to get a historical record in the bottle of what went on in that season. To do that, you have to learn to step back and be comfortable with things that definitely aren't comfortable."
Right in the midst of her second vintage, the practical reality of making wine at Brennan is not lost on Burton, especially as they only just managed to get electricity installed in the tractor shed-cum winery for this vintage.
"What I have learnt since being here is that you actually don't need much to make great wine. Good fruit is number one, them some fermenters and a water blaster...I have been lucky to work in wineries with all the toys that can compliment what we do, but you can easily do without them," Burton says.
"Patience is as massive as is trusting your instincts. From a winemaker's perspective it can be really liberating. I like to call what we do here 'controlled winemaking with no control'".
Living on the edge is another way of putting it.