Well it's eminently possible. What's more, for the inaugural Down to Earth wine celebration in Central Otago, that is just the tip of the iceberg.
As the brainchild of Central Otago tourism, Down to Earth has set its sights firmly on the global wine experience. Harnessing initiatives tried successfully overseas to showcase regional characteristics, the event hopes to capitalise on the ease with which visitors from the East Coast of Australia and the North Island can access Central Otago via Queenstown airport.
While a Central Otago wine trail might be well known amongst local wine devotees, the goal with this initiative according to event coordinator Bruce McGechan from destination Queenstown is to create yet another reason for tourists to visit Central Otago.
"We looked at our major markets being the East Coast of Australia and Auckland, Wellington and Christchurch, and saw that there really is quite strong wine tourism competition in each of those major centers. For instance, people from Sydney have great choices in The Hunter Valley and likewise with Melbourne and the Yarra and Auckland with Waiheke Island, Wellington with the Wairarapa and Christchurch with Waipara. Based off that, we decided that we needed to do something just a little different.
"We looked at wine enthusiasts, by that we mean not just people who drink wine as another beverage, people who are really wanting to extend their knowledge of wine and realised through some research that these people want to be more hands on."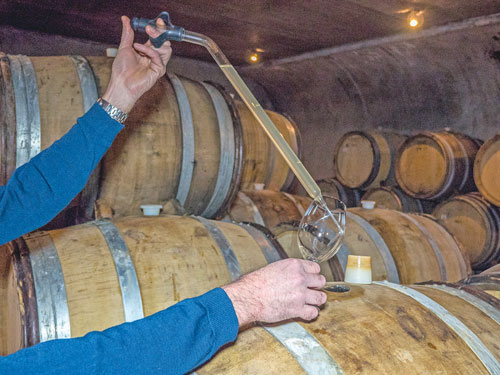 With an idea to promote an experience that would get wine enthusiasts up close and personal with those at the coalface of wine production in the region, Down to Earth was born. But rather than dictate the type of events that might be included in the program, the idea was to throw the concept open so that the vineyards themselves could showcase their own unique experience.
"Rather than just hosting a tasting, which is obviously in and of itself an important component of wine tourism, we wanted to offer something more," says McGechan.
"We used research that looked at what wine tourism activities were more successful than just doing a wine tasting, and we looked for examples from some of the most competitive markets overseas. Napa was one as they had done something similar which formed the basis of the idea."
It's all very well having the enthusiasm for an event such as this driven by the marketing arm of a tourism initiative, but what if the vineyards themselves didn't believe in it?
"I assumed their reception would be good and fortunately it has turned out way better than expected, to the extent that we have got more than 30 wine growers, depending on how you count them...perhaps even double that number, and when you look at the events, golly there are some creative ideas," says McGechan.
Utilising social media, on-line advertising and the marketing networks of the wineries themselves, it's hoped that along with the undisputed pulling power of Queenstown, 'Down to Earth' will be simply another reason to entice visitors seeking something 'slightly less' adrenaline fuelled but no less invigorating.
"We refer to these as experiential events," says McGechan, "for instance there is a group called the artisan winegrowers of Central Otago, and they are doing a geology, soils and terroir tour of the Cromwell basin.
"You can also get down and dirty with Nigel Greening at Felton Road who is lifting the lid on Bio-dynamics, indulge in a degustation dinner, learn how to prepare a banquet by cooking in wine barrel smokers or even take a helicopter tour over one or more of the various sub regions.
"We're taking a crawl, walk, run approach to this initiative, as being an inaugural event it's always going to be a little bit difficult getting that awareness. But, after this first one, and hopefully after people realise how fantastic the events are, then we really expect it to take off in the following years."