Tuesday, 23 July 2019 10:13
Saturday, 04 June 2016 09:55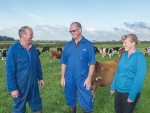 Neonatal scours can badly affect dairy calves and make it difficult for herd owners to raise enough healthy replacements.
»

Latest Print Issues Online
Kiwi farmers are not the only ones nervous about their future as a result of politicians throwing them under the…
Could a pink seaweed hold the solution to our methane emissions problem? Australian scientists think so.