Saturday, 28 May 2016 10:29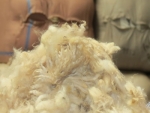 The high volume of short second shears eased slightly at the latest NZ Wool Services International's auction compared to the last North Island auction on May 12, says chief executive John Dawson.
Thursday, 03 March 2016 19:19
»

Latest Print Issues Online
A small organic farm in South Auckland has become the first NZ recipient of DeLaval's new robotic milking system, the…
Bert Quin, managing director of Quin Environmentals (NZ) Ltd and owner of the fertiliser company Quinfert on why we need…
Australia's last surviving iconic dairy cooperative, Norco, says it's getting enquiries daily from farmers wanting to supply it milk.
Mark Daniel on what's new in machinery for the vineyard.
New Holland Agriculture has introduced the new Braud 9000 series to its portfolio of self-propelled grape harvesters, with the 9090L…
Initially designed to assist fertiliser spreading trucks operating on steep New Zealand hill country, TracMap's GPS guidance and job management…