Displaying items by tag: JOINTS
Monday, 05 September 2016 18:55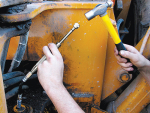 How often do you see a machine with a huge glob of grease right next to the nipple instead of where it's needed — a joint or pivot point?
»

Latest Print Issues Online
The New Zealand Anti-Vivisection Society, a lobby defending animals used in science has turned its attention to Lincoln University.
On the topic of milk supply…..New Zealanders may not need to freeze milk.