Displaying items by tag: DairyAmerica
Thursday, 30 May 2019 08:46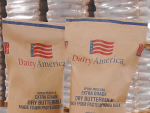 The largest milk powder producer in the US, DairyAmerica is coming back to Global Dairy Trade (GDT), re-launching skim milk powder on July 16.
»

Latest Print Issues Online
If someone turns up on your farm, selling Stihl 461 chainsaws, please shout out. That's the message from NZ Young…
Cows do talk, researchers say.