The bottle of Cabernet Sauvignon picked up by 43-year-old Yoshiako (Yoshi) on his way home from work transported him and his wife Kyoko. It led them to try more wine, until suddenly they were keen to learn as much as they could about their new beverage.
When Yoshi's bank in Tokyo transferred him to London in 2001, wine became more than a passing curiosity, for the couple, it became an all-consuming passion.
"With our limited knowledge of wine from Japan, you can imagine what happened when we got to London. Anytime I got a few days holiday from the bank, we went to France."
Before long Yoshi realised he had a burning desire to make something himself.
"When I thought about making something, the only thing I thought about was making wine. I simply imagined that it would be fantastic if my small wine cellar at home was full of my own wines."
Initially entertaining thoughts about moving to France, the United States and even Australia, Yoshi decided without ever having visited, that New Zealand would suit them best.
"To be honest with you, we didn't speak good French, and France is a really complicated society so it might take 10 years to make my own wine, and that wasn't going to work. The United States is really expensive and I didn't have much knowledge about Australia and also, I wanted to make Pinot Noir. So in this regard, with the lovely nature, cool climate and nice people, we moved to New Zealand."
After purchasing a Japanese wine magazine, Yoshi spotted an article on Blair Walter from Felton Road. Not being shy in coming forward, he contacted Walter out of the blue, asking for a job
"In 2005, Kyoko and I came to New Zealand for the first time. We didn't have a lot of time, so we came straight to Central Otago to see Blair. He actually looked really embarrassed as here was this Japanese bank manger asking for a job."
At the beginning of 2006 the pair came back to New Zealand to complete a one-year course in winemaking at Lincoln. Immediately after graduating, they made a beeline for Central Otago to see Blair.
"We knew Central Otago was focussing on quality Pinot Noir and we had already met Blair, so it was natural. Also, there were no other Japanese winemakers down here."
Straightaway, the relationship they had formed paid off, and Yoshi and Kyoko were taken on as part of the Felton Road vineyard team. Realising that they were on a steep quest to realise the goal of making their own wine in record time, the globe trotting Sato's spent the following three years swapping hemispheres learning more and more about natural wines as they travelled.
"We always had in our mind that we wanted to make natural wine, right from the beginning. But at that moment we knew we just had to survive in the industry, so we needed to be trained - a lot," says Yoshi.
Like some form of brutal boot camp, just with grapes, Yoshi looks back on this time as incredibly valuable in his evolution as a winemaker. "Starting from seven in the morning to 8pm we just harvested. Then I would go into the cellar and work until 2 o'clock in the morning, and I did that for five weeks. I couldn't do that now, but it was great training."
For the next two years the couple undertook vintages in France as well as New Zealand, and then Yoshi found himself working with Duncan Forsyth at Mt Edward who, as he puts it; "Kicked me up the arse and said, 'Yoshi, why don't you start making your own wine?' So together with doing the vintage at Mt Edward, I decided to process a few tonnes of Pinot Noir for myself."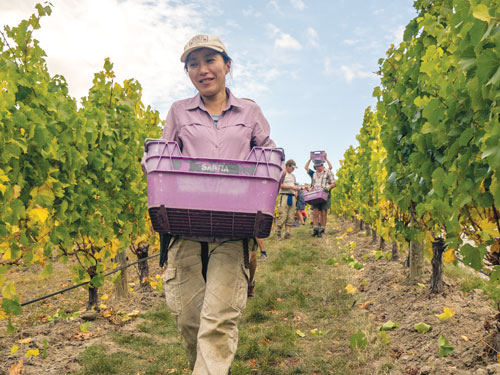 For that first wine making project, Yoshi and Kyoko were anything but conservative
"To be honest," says Yoshi, "in that first year we decided to add some tartaric acid because we didn't fully establish our idea of winemaking in relation with the acidity level or pH in must. Except for that, it is purely natural. Natural ferment, natural malo, no additives, no sulphur dioxide until bottling. After that year, we no longer add acidity in wine."
The Sato fondness for natural wine doesn't come weighed down with any pre-set philosophy, nod to contemporary fashion, or distrust of science
"We just like the way it tastes," says Kyoko. "Wine without additives is fascinating.
"It gives a different sensation on your palate and in your body. Of course we need precise knowledge based on science, not for adding any chemical or additives but trying to avoid them."
"The grape should also be farmed in an organic or biodynamic way, so this way the grape really reflects the character of the site" says Yoshi. "We don't want to manipulate or break that beautiful thing from the vineyard by adding something to the wine."
Four years ago Yoshi was appointed winemaker at Mt Edward and with Kyoko working full time as part of the Felton Road vineyard team it would have been reasonable for their personal production to take a back seat. Far from it.
"That 2011 vintage was very difficult for me," says Yoshi. "I had to act as winemaker for Mt Edward as well as making my own wine. Our volume was (growing) and in addition to Pinot Noir and Riesling we added Pinot Gris."
And just to keep their customer base guessing, they pushed Pinot Gris aside in 2012 and ushered in Chardonnay while still making a small quantity of Riesling. Since their first vintage, where 80% of their limited production of 180 cases was exported to Japan, Yoshi and Kyoko have made major inroads into Australia.
While trying to get your hands locally on a bottle of Sato might be like trying to find additives in their wine, this is all part of Yoshi and Kyoko's philosophy
"It's not like we are intentionally avoiding New Zealand, it's more about attracting influence for our wine in bigger markets. If we get success in Australia, this information scatters to the other side of the world as well."
If anything, the biggest issue facing the enterprising couple isn't whether hipsters in swanky Sydney establishments will lose their taste for natural wine, or rogue yeast will spoil it, it's how to secure a supply of grapes each year.
"For the future we need our own site so we are searching for a place now. What we are thinking about is finding 8-10 hectares, planting three hectares of grapes and together with the grapes that we purchase try to get our production up to 2000-2500 cases per year. The important thing is, the two of us can still manage three hectares ourselves and in this regard we can make money while maintaining our own style."