"It's almost getting a bit tacky now," says Anna Seifried with a laugh, contemplating the five gleaming discs overlaying the label, including Champion Sauvignon Blanc and Champion Open White Wine at the New Zealand Wine of the Year awards.
But she and brother Chris, Seifried Estate Winemaker, have no intention of hiding this light under a bushel, because having New Zealand's best Sauvignon Blanc is a golden opportunity for the company and for Nelson, both of which can be overshadowed by Marlborough's dominance.
Chris loves taking a wine to market and being able to show the Nelson style - often a buyer's first look at a wine from the region - while explaining its "nuances", he says. "Particularly when it comes to Sauvignon Blanc. Some buyers can be very critical of a lesser-known region, so it can take some convincing for them to even look at ours. But once they get a glass in their hand, we let the wine speak for itself."
And he says retailers are increasingly ready to "de-risk", by balancing their shelf-load of Marlborough Sauvignons with wines from other regions. "That's opening doors and this awards recognition helps bring attention to Nelson."
Judges said the Sauvignon - which they also named Nelson's best wine - is "a beautiful amalgam of crisp, crunchy herbaceous freshness, along with guava and other tropical fruits. All this held together with fresh, vibrant acidity and great length." Put simply, it is a "stunning" wine, says Deputy Chair of Judges Ben Glover.
That's despite the fact that uncontrolled fires were blazing in the Tasman region in February 2019, near some of the Seifried vineyards. That put the team on edge and ruled out using mowers or tractors for nearly three weeks. The hot summer also meant there was little access to irrigation, and the subsequent quality of wines have provided learnings around "turning off the taps and not concentrating on volume so much", says Chris.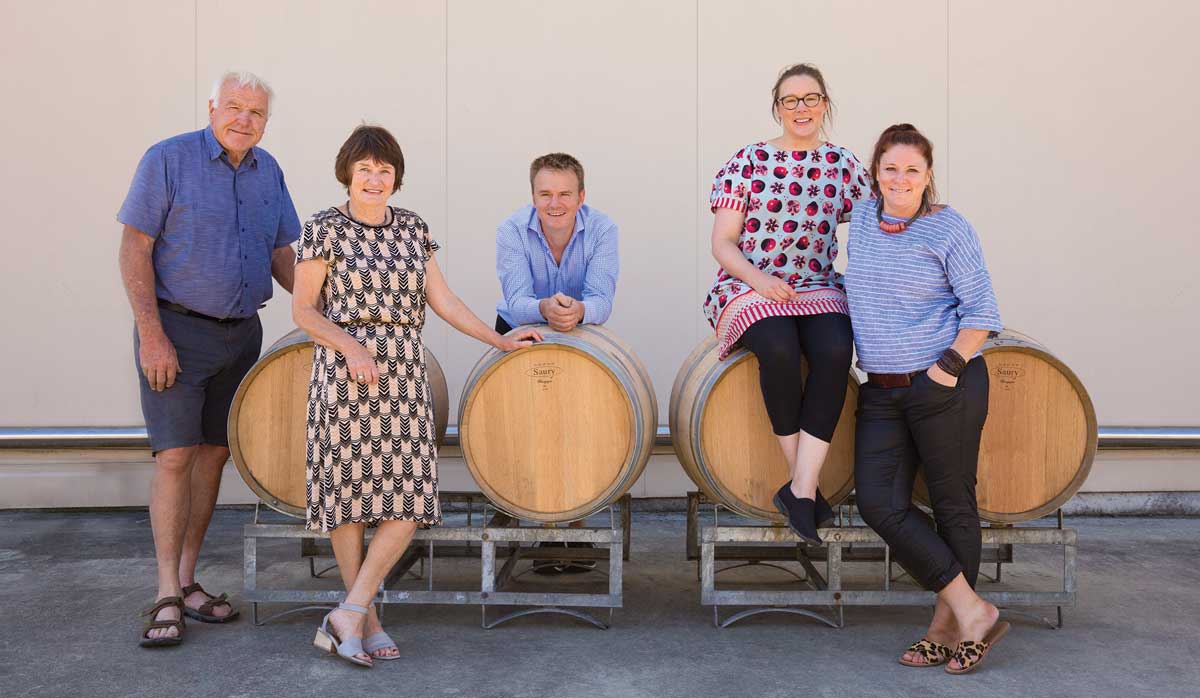 Hermann and Agnes Seifried, with their children.
The Seifried wine story began in 1971, when Hermann and Agnes Seifried - a young, just-married couple - bought land in Moutere, with plans to "make wine on Saturday so they could drink it on Sunday", says Chris. They grafted their own vines at the kitchen table late into the night, and in 1973 planted their first vines. Money was tight and nothing was outsourced, so by the time they harvested their first crop in 1976, Hermann had taught himself to weld by transforming milk tanks into wine tanks, though a little rough around the edges, says Anna. "Hermann is an advocate for 'if you can't do it yourself, then learn'."
Fast forward 46 years, and that mentality is still strong at Seifried. Chris, Anna and their sister Heidi have all come home to work in the company with their parents, and relish the fact that almost everything is an in-house job, from vine nursery and estate vineyards through to making, bottling and labelling the wines, before taking them to market. "I really enjoy pulling all the pieces of the puzzle together," says Chris. "It's a challenge, but it's a great challenge."
The three Seifried children all travel to far-flung corners of the world to share the Seifried story, and have built 15-year relationships with some distributors. That family-owned, family-run, niche segment runs strong in Nelson, and is both an advantage and a disadvantage for the region's wine companies, says Chris, who is a board member on Wine Nelson. "They don't have the international connections and the marketing team, or brand building and sponsorship opportunities," he says. "The guy you meet in the cellar door on a Saturday morning will probably be the winemaker, will possibly be the mower guy, will possibly be doing the pruning. That quaintness is quite nice, and quite artisan, and what sets our small region apart."