And with no "redundancy" in the labour pool, the risk of Covid-19 is a real and present danger to harvest, says New Zealand Winegrowers (NZW) chief executive Philip Gregan.
Less than a third of Marlborough's seasonal labour for vintage 2022 had been recruited by mid-October, which is roughly half the required workforce. The Marlborough Seasonal Labour Update completed in October shows a shortfall of approximately 740 seasonal winery workers, with vacancies eight percent higher than October 2020. Of the staff that are signed up, aroud a third have no winery experience, while 30 percent have just one vintage behind them. Those ratios are likely to get worse as recruitment continues in a tight labour market, says Wine Marlborough Advocacy Manager Nicci Armour. "We just don't have the experienced people in the country."
Philip says the labour shortage heading into vintage is just the beginning, with the pandemic ready to foil the best laid plans. "Covid might not be in your region now, but it's going to be," he says. "Coming up to vintage, where time-critical work needs to be conducted, the question is 'what happens - how do you operate your business - if staff members get Covid in the lead-up to, or during the course of, vintage?' Everybody has to be thinking about and planning for this eventuality... That's why getting people vaccinated is critically important."
Cloudy Bay Technical Director Jim White says hand picking will be "the first cab off the rank" when it comes to vintage challenges, with the company planning for 1,000 tonnes in Marlborough and 100 tonnes or more in Central Otago. Hundreds of backpackers have traditionally applied for harvest jobs in Central, compared to the handful opting in this year, he says. Consequently, contractors have asked whether Cloudy Bay would consider machine picking blocks traditionally handpicked, "which is not something we want to do, for stylistic or quality purposes", Jim says. "We will have to adapt to that as it plays out."
Australia's open borders mean the company is losing some of its full-time Marlborough winery staff to roles across the Tasman, but Cloudy Bay is in a good position for vintage, Jim says. The crew includes a group of "Covid refugees" who worked the 2020 vintage at Cloudy Bay and have been kept on by the company ever since, in a mix of vineyard and production roles in Marlborough and in Central Otago. The decision to keep them on was made on humanitarian grounds, when they were unable to travel home, but having experienced staff for the third straight vintage is a boon for the company, he says.
Cloudy Bay also deploys bottling line staff to the cellar for vintage and is looking to train vineyard staff - some of whom have changed from careers like travel - for winery operations after machine harvesting wraps up. "That's advantageous for us, but will also provide some really good development and training opportunities for our staff."
The company is looking outside the box across the board, Jim says. "We did that for vintage 2020 and 2021, so 2022 will be an extension of that." Meanwhile, they are also preparing for Covid curveballs, and ready to put deep clean protocols, testing regimes and bubbles in place, he says. "We know the vaccination status of most of our staff, which gives us a great deal of confidence."
Giesen has done most of its recruiting for vintage 2022, and is in "a pretty good position", says Chief Winemaker Duncan Shouler. "It has been a challenge, same as last year, but we've been successful in recruiting from outside the wine industry - people with practical skills who are willing to get stuck in." The winery's "highly experienced" full-time cellar crew will be key, he adds. "With less experience in our vintage cellar team, the supervision from our full-time crew becomes vital."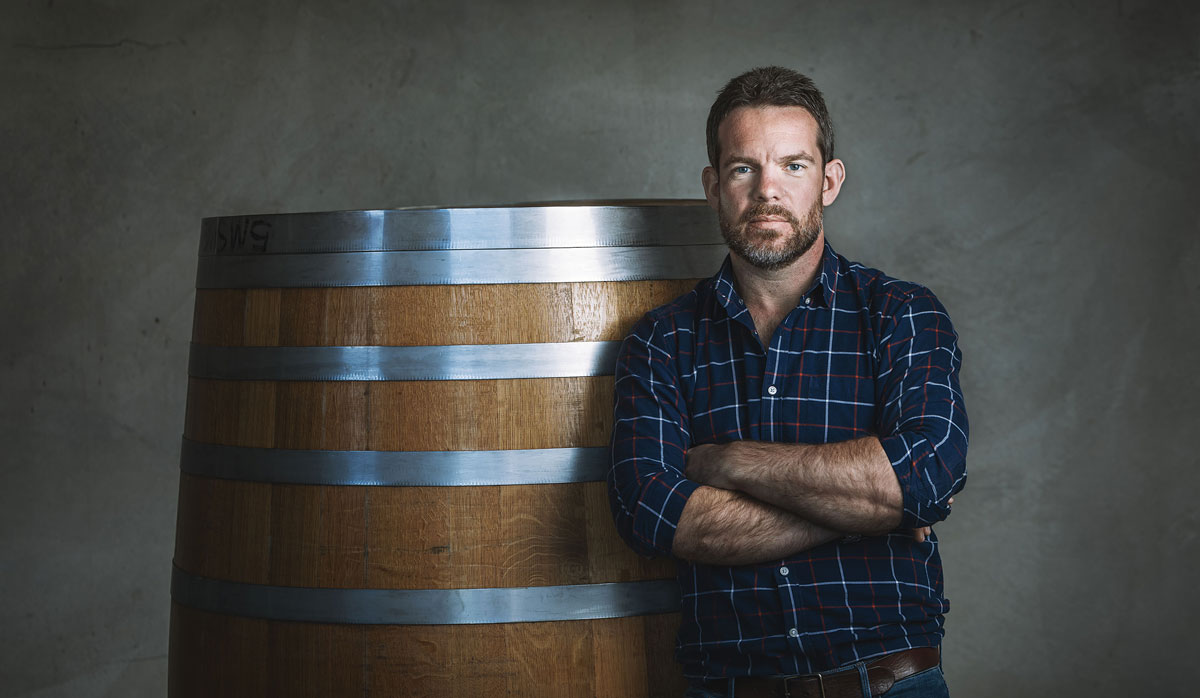 Duncan Shouler
When it comes to the Covid risks to vintage, he says they'll be prepared, with the ability to change rapidly and keep their people safe. Being "adaptable" in the approach to operations has been a key Covid learning, he says. "Having to change regularly is not a new thing with regards to vintage, but Covid has brought the potential for the need to make very significant operational changes rapidly."
Beyond labour, shipping has been "tricky", and the company has experienced delays, says Duncan. "But we are keeping up, and will have a pretty empty winery come harvest time." Sluggish shipping schedules are also impacting on incoming goods, and "it's all been about getting orders in early", he says. "Suppliers are well aware of the risk of delays to shipments, and so we are working with them to ensure our orders are in early enough to mitigate that risk. Ordering barrels in September has certainly meant we needed to be organised this year."
Meanwhile, excellent demand is being driven by the key markets of Australia, United States, New Zealand and the United Kingdom. Some markets have substituted New Zealand Sauvignon Blanc with South African or Chilean alternatives, "so there is risk that buyers and consumers stay with something that is cheaper", he says. "But we believe we make a high quality, distinctive wine that the world is prepared to search out and still buy in these slightly crazy and uncertain times. The New Zealand Trade and Enterprise Project Veraison consumer research project, as well as Giesen's recent US consumer research, show people are more willing to pay more for a more premium product, he says. "We can't wait for vintage 2022 so we can fulfil our growing demand."
Dog Point has also been pleasantly surprised by buoyant sales throughout the global pandemic, despite being largely on-premise before it hit. And that's across the board, with sales up in Asia, the UK, the US, and in Australia in October. "From a market perspective, everything is quite positive," says General Manager Matt Sutherland. The strength of Marlborough Sauvignon Blanc in particular has reaffirmed its position on the global stage, he adds. "That it's a fantastic glass of wine and has credibility worldwide."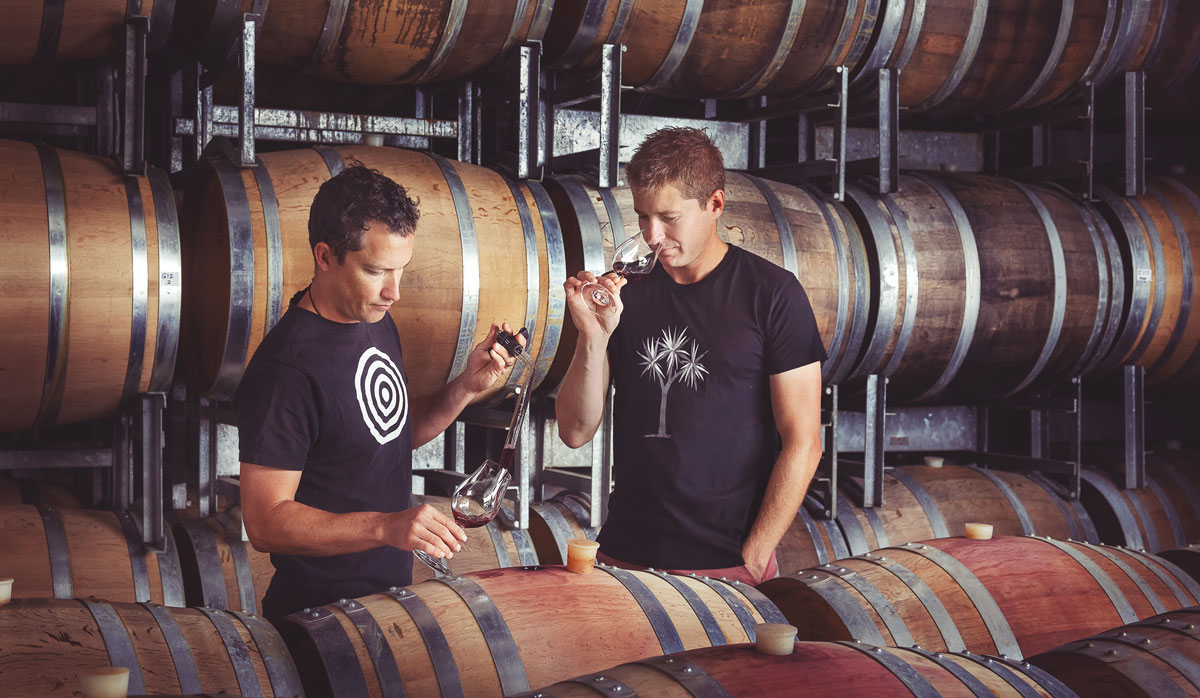 Matt Sutherland and Murray Cook.
The groundwork put in by the company over many years of travelling to markets is paying dividends, he says. "Sometimes you can go on the road for three weeks and you come back and don't know if you have achieved anything." Now, the relationships built over years are providing a support network, with wine companies, distributors and customers, "leaning on each other", he says, calling it "a bit of a think-tank of people and how to problem solve".
The short supply caused by the low yields of 2021 has been an issue, requiring good communication with markets, Matt says. "It does make us think for the future. How do you limit your risk a little bit? That is constantly on our mind." The company has later release dates than many, and can have a quicker turnaround of the 2022 vintage. "But if we have a small vintage this time, that's when it will bite."
Meanwhile, they seem set for vintage crew, he says. "Basically, we contacted some good friends and said, 'what are you up to?'" That yielded great results. "They're all really qualified and know the ins and outs of business and the styles we do." Dog Point has also recruited another full-time "hybrid" staff member, who will work in the vineyard over summer and come to the winery as a cellar hand for vintage.
They've upped their numbers from last vintage and started to talk about what happens if someone catches Covid-19 during the harvest. But it's extremely hard to prepare when the plans change daily, he says. In the meantime, they're erring on the side of caution, with the winery shut for tastings, possibly until after vintage.
Saint Clair Family Estate Managing Director Neal Ibbotson says there have been plenty of learnings over the past 20 months, including that "change is constant". The pandemic has also emphasised the benefit of spreading risk by being in all sectors of the market at different price points, and in many markets," Neal says. "And the benefit of having a good reputation as an employer, and having good relationships with freight forwarders, importers and all the people we do business with."
The company is dealing with short supply and strong demand, but has ensured the customers for its main brands - Saint Clair, Lake Chalice and Delta - receive their requested allocations, he says. Supply constraints carry the risks of losing shelf space or restaurant listings, and having that space filled by other suppliers and countries, "and that we may not be able to get this space back", he says. But there are opportunities as well, including filling gaps in the marketplace that other companies have not been able to supply, and "marketing the Marlborough brand in our export markets as the highest quality Sauvignon Blanc brand in the world."
They are also increasing prices to offset increases to the minimum wage and living wage, "where we are facing wage increases in some areas of 22 percent", Neal says.
Philip says wine companies are used to dealing with the "normal uncertainties of doing business", such as the vagaries of nature impacting harvest dates or yields. But for the past 20 months they have managed increasing levels of uncertainty about what the future will hold, exacerbated by low labour supply, a small 2021 vintage, and shipping challenges. "Running a wine business has never been easy. But it's just got a lot more complicated and a lot more expensive."
NZW has been working to help bolster the labour supply for vineyard work over the growing season and harvest, and cellar hands for vintage, says Philip (see page 35). "We are also obviously closely involved with the Government to try and get as many workers into the country as we can."
Quarantine free travel for Recognised Seasonal Employer scheme (RSE) workers from some Pacific Island nations has been a "big step forward", but any boosts in numbers has to be balanced against the repatriation of many RSE workers to their home nations, having been in New Zealand for more than 20 months. "There are also relatively few people on working holiday visas in the country," Philip adds. "The labour supply is very tight and we have seen that with the reduced unemployment rate, which is down at 3.4 percent. Labour is a major, major issue."
The past few years have underscored the importance of people to the wine industry, with mechanisation unable to fill the void of a hollowed out labour supply. "I think the industry has always prided itself on looking after its people well. And I think that the importance and necessity of doing that has really been highlighted over the past 19 months." Many employers and employees have "gone the extra yards to make things happen", he says. "There's been real dedication on the part of both parties."