Displaying items by tag: Siefried
Monday, 20 October 2014 15:11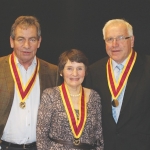 Three long-term and influential members of the wine industry were inducted as Fellows at the recent Romeo Bragato conference.
»

Latest Print Issues Online
A Marlborough winery is attempting to replace sulphur dioxide (SO2) from their organic Sauvignon Blanc and replace it with green…
The impetus behind developing the Klima stripper back in 2007 was a continual lack of labour during the pruning season.
The past 12 months have been full on for the New Zealand wine industry.