Displaying items by tag: WESTLAND DISTRICT
Friday, 03 May 2019 15:23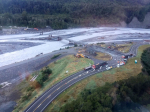 The Government is giving an extra $400,000 to help West Coasters recover from the devastating March floods.
»

Latest Print Issues Online
The New Zealand Anti-Vivisection Society, a lobby defending animals used in science has turned its attention to Lincoln University.
On the topic of milk supply…..New Zealanders may not need to freeze milk.