Displaying items by tag: NZGGC
Thursday, 06 August 2015 12:02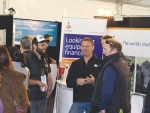 It is 21 years since the very first Romeo Bragato Conference was held. Back in 1995 it was organized by the New Zealand Grape Grower's Council, aimed at providing growers with up-to-date information on what was happening out there in the vineyard.
»

Latest Print Issues Online
The past 12 months have been full on for the New Zealand wine industry.
Two PhD students from Victoria University have developed a machine that could change the face of winemaking in New Zealand.
If A Seat at the Table hasn't made it onto your must-see movie radar yet, it will.