Displaying items by tag: F2F
Monday, 07 November 2016 11:31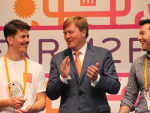 Dutch King Willem-Alexander congratulated winners in Rabobank's FoodBytes! Competition in Sydney last week.
Monday, 07 November 2016 08:27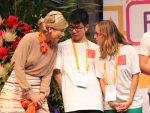 Rabobank's Farm 2 Fork (F2F) summit in Sydney was all about food – but briefly became about fashion as Dutch Queen Maxima took to the stage with husband King Willem-Alexander to congratulate winners in the Food Bytes! competition.
»

Latest Print Issues Online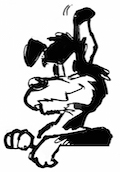 The Hound understands that Federated Farmers has been cut out of the information loop, for the past year, on the…
Your canine crusader noticed a full-page ad recently run in a farming paper calling on meat companies SFF and Alliance…
»

Connect with Rural News
OPINION: There is another pandemic sweeping the nation.
Former Fonterra chairman Sir Henry van der Heyden will be offering his thoughts on the future of the NZ dairy…
The country's second-largest milk processor is warning its suppliers to expect lower milk prices in the months ahead as milk…