Displaying items by tag: BEN JAMES
Tuesday, 05 March 2019 09:40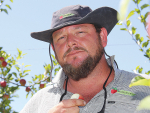 Horticulture's biggest challenge is the lack of people prepared to work in the industry, says Ben James, the president of Hawkes Bay Fruit Growers Association.
»

Latest Print Issues Online
Mood swings are a well-known part of puberty, and it seems that's it is not just humans. Canadian research suggests…
Aussie farmers could be forgiven for recalling the name of their current Minister for Agriculture.