Hineora Orchard
Hineora Orchard consists of a 11.5 hectare block on which the Trust run a kiwifruit joint venture operation, a commercial pack-house facility housing the local kiwifruit spray company in which the Trust holds shares.,
Prior to the Trust's creation in 1970, the land was largely occupied by different whānau who farmed the block maintaining a subsistence living growing a range of fruit and vegetables for the local community. Later a citrus orchard was established, however, given the small land area, this also failed to provide a sustainable economic return for its owners.
By 1998, the trustees recognised that they were asset rich, but lacked sufficient capital to develop their land. Fortunately, at the same time, a group of Eastern Bay of Plenty orchardists were seeking opportunities for development of the new Gold variety of kiwifruit and were prepared to enter into 50/50 joint ventures with Trusts – effectively providing capital investment to the value of the land contributed for development by landowners.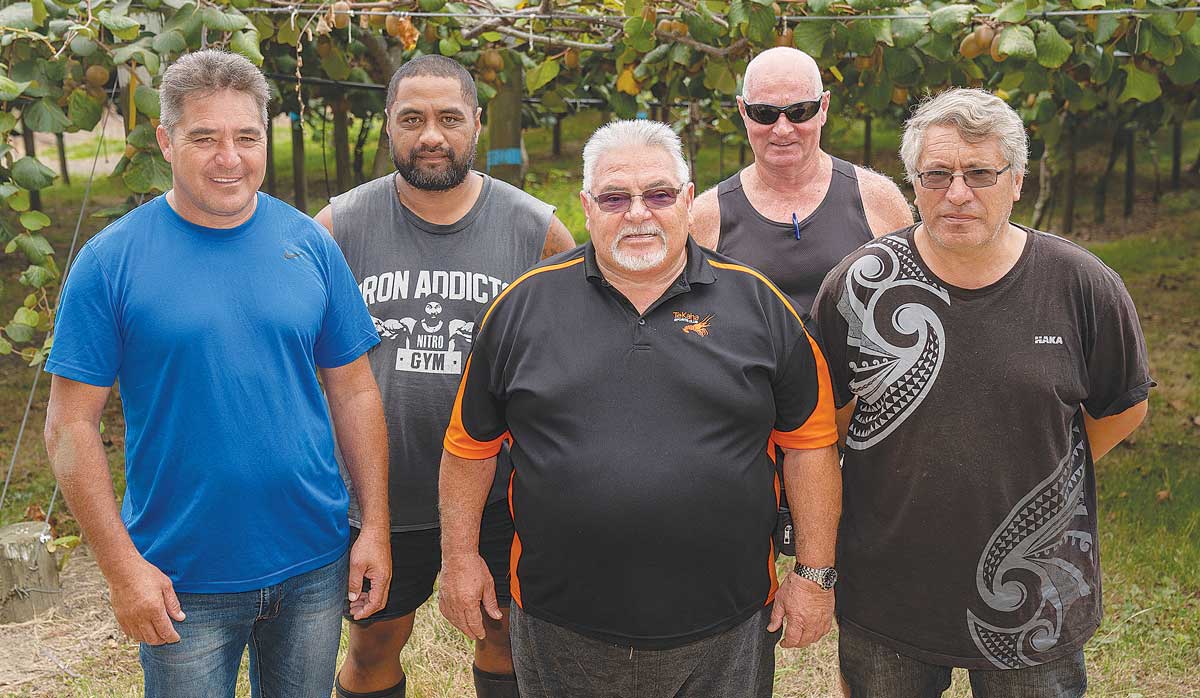 Photo: John Cowpland – Alphapix.
The Hineora Orchard operation began in 1999 and was the last of six blocks to join the innovative joint venture development with decisions made, and profits shared, on a 50/50 basis with investors for a period of 20 years. Originally intended to end in 2021, the joint venture has managed the current orchard operation through the highs of the returns from the original Gold variety, to the lows of the PSA vine disease, which devastated large parts of the kiwifruit industry.
The land, and its orchard operation, is now due to be returned to 100% ownership by the trust in 2023.
The Trust was also influential in the establishment of Te Whānau-a-Apanui Fruitgrowers Incorporated – a charitable community education outreach group, responsible for upskilling 60 local workers to level 4 qualifications in Horticulture as well as supporting locals to build to Diploma level courses.
Otama Marere
Otama Marere is based at Paengaroa near Te Puke, and has gone through a remarkable transition. The land was originally leased to the local golf club on a 60 year lease at two shillings and six pence per acre. When the lease on the 45 hectare block expired in the 1980s, Otama Marere took back the land and converted the golf course into an orchard.
Today, the orchard is a thriving diversified block with nearly 12 hectares of Hayward Green kiwifruit, which produces approximately 527,631 gross kg per year. There are also three blocks of SunGold G3 with 2.21 hectares in production.
In 2018, Otama Marere became one of the first Maori owned orchards to embrace organic SunGold and converted 3.48 ha of the existing SunGold into an organic kiwifruit block. A further development has taken place and the Trust now has just over 7 hectares in organic Gold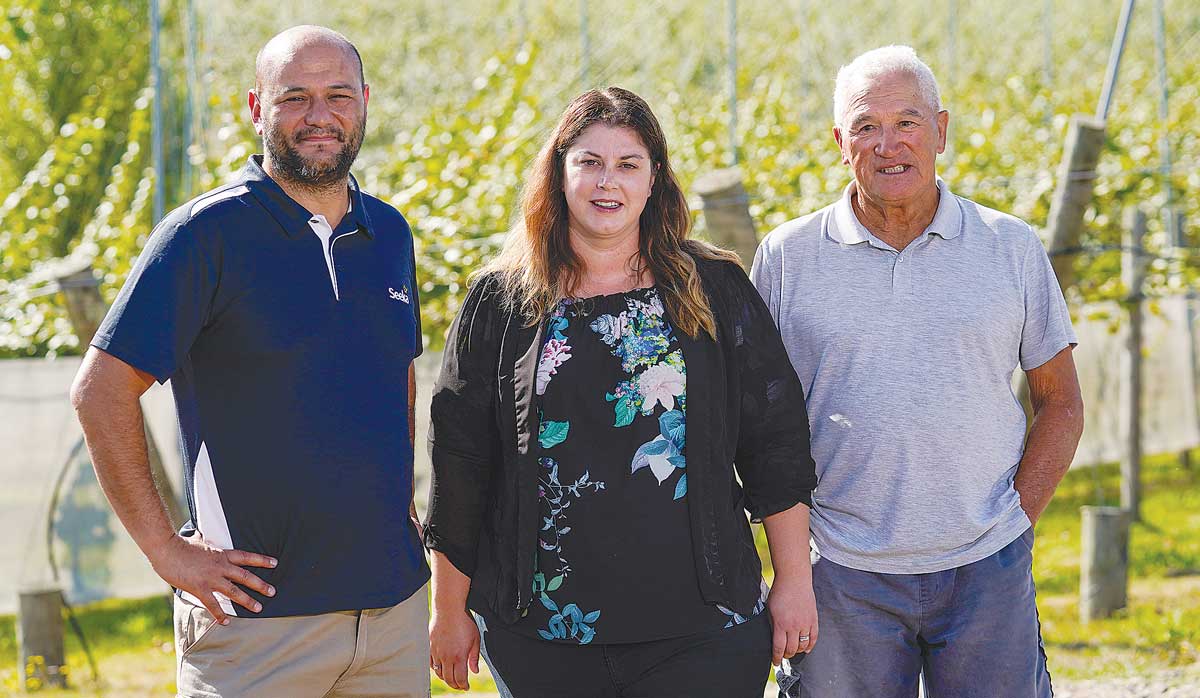 Photo: John Cowpland – Alphapix.
While the organic operation is still in development, Otama Marere's SunGold kiwifruit produces approximately 418,435 kg per year and this will rise in future years with the newly established organic blocks. Otama Marere has been branded a leader in organic SunGold kiwifruit with companies such as Zespri seeking to bring overseas visitors to the orchard. The conversion has also been an invaluable source for other Maori growers, with the Trust providing education and information to fellow growers and the public alike.
From 2018 to 2020, the Trust planted over two ha in Gem avocados and a full return is expected on these avocados in year five years. Adding to the diversity of the block, Otama Marere also receives Apiary income and grazing proceeds. The Trust is also in the proceeds of re-planting their forestry block which was milled in 2018 with a mix of Manuka and Kauri trees.
Otama Marere employs up to ten whanau owners at any one time, including the orchard manager Homman Tapsell.
While these staff are employed on various tasks around the orchard, Seeka – a packhouse and orchard services provider – assists with additional labour where needed, particularly around fruit picking.
Ngai Tukairangi Trust
Ngai Tukairangi Trust is a large kiwifruit operation with one of its orchards, based at Matapihi, just a few kilometres from the centre of Tauranga city. The land is on a peninsular and was originally used for dairy farming. But 40 years ago, a number of family members who owned the dairy farms feared that the land would become incorporated into urban development and decided they'd have a better chance of holding onto it by converting to kiwifruit.
At the start of the major kiwifruit boom in the 1990s, a trust was formed and the land was planted in kiwifruit. Today, Ngai Tukairangi Trust has expanded and is said to be the largest Maori kiwifruit grower in the country. All told, it owns 110 hectares of land planted in kiwifruit – including 60 hectares in Hastings which is covered.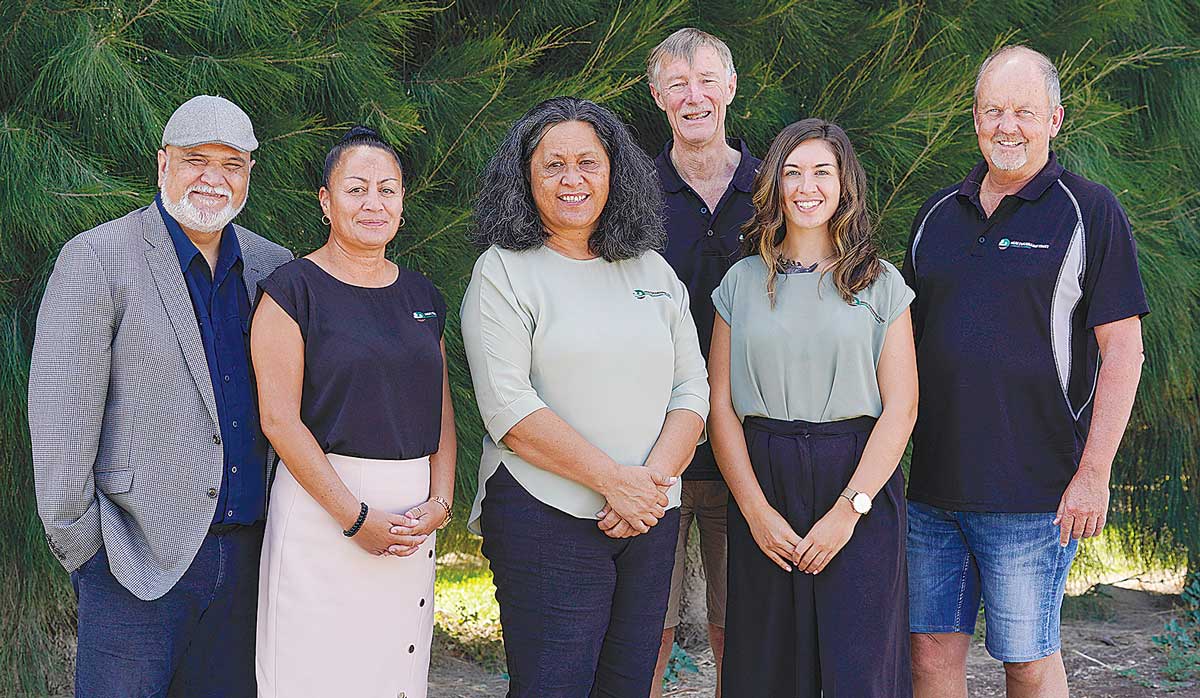 Photo: John Cowpland – Alphapix.
Like most kiwifruit enterprises, Ngai Tukairangi was caught up in the PSA crisis, but unlike some growers who waited to see what might happen, they immediately grafted the G3 SunGold variety, which is resistant to PSA. By acting early, it became one of the first orchards to be producing SunGold and gained a commercial advantage.
Today the Trust produces about 1.7 million trays of mainly Gold kiwifruit. They are confident that they can reach the magic two million tray mark and possibly even higher in the near future.
Ngai Tukairangi Trust has made a point of encouraging whanau involvement and employs about 56 staff. As part of their commitment to sustainability it has a substantial grants programme focused on education ranging from supporting PhD students to skills based training such a truck driving.