He says many farmers are worn down by compliance and filling out long forms to multiple organisations, just to prove to each one in writing what they are doing. He says, in many cases, farmers are actually doing more than what is required but get penalised because they don't tick every last box on a form.
Hoggard says sometimes the boxes farmers are expected to tick aren't that easy to tick because they don't quite fit in with how they are achieving the outcomes that are desired on farm.
"I personally got caught out because, although I was doing more than was asked of me, I didn't tick a particular box, which is just stupid," he told Rural News.
"To me, ticking boxes sucks the fun out of farming. We went farming because we like being outside, fixing fences, moving stock, the fresh air and just feeling the peace and solitude – not to be stuck in a freaking office and typing out something for the twentieth time to please some bloody clipboard carrier," he says.
Hoggard says it will come as no surprise that Federated Farmers will focus on some key policy areas such as water, RMA, biodiversity, climate change, biosecurity. He says economic and trade issues are also high on the agenda. He wants to ensure that any talk of protectionism is strongly countered and that voice and support is given to NZ's free trade position.
"We certainly don't want to move back to the days of protectionism," he says.
In raising policy issues, Hoggard says Feds will focus on front footing issues and take a proactive rather than a reactive approach. He says NZ should do what it's doing well and ignore the advice of the 'latte lot' in Auckland and Wellington.
"I want Feds to put an authentic farmer voice to all conversations," he told Rural News.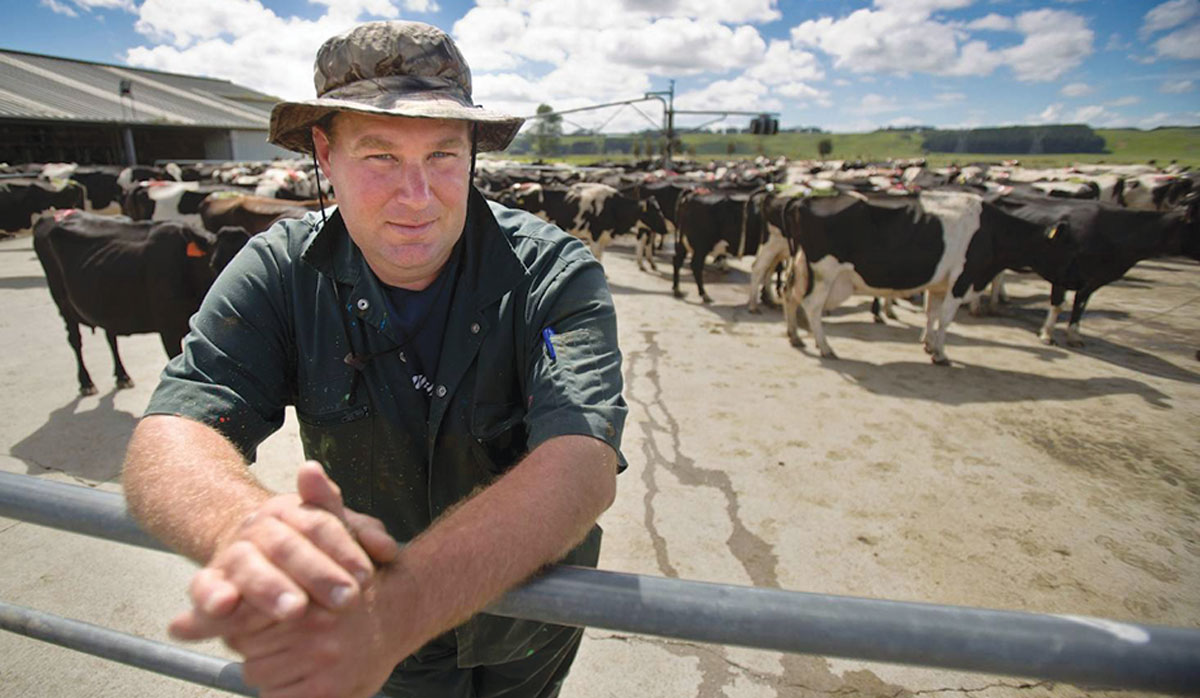 Andrew Hoggard.
On the home front, Hoggard wants to see an improvement in connectivity, meaning quality broadband for all rural communities. He says many local and central government agencies are demanding that farmers do business online, but he says many can't because of poor connections.
Hoggard says students in rural areas are also severely disadvantaged over city kids in this regard.
He says this was particularly highlighted during Alert Level 4 when students were expected to learn online. He knows of one student who has lost all hope of being dux of her school because of the poor internet connection.
Hoggard says he's even prepared to do a DYI to get broadband to some places, but fears that such efforts would quickly be thwarted by the zealous bureaucracy.
According to Hoggard there is a lot of talk these days about the need to add value to the basic product produced on farm. However, he says there is also a need to ensure that such a philosophy is not adding more unnecessary costs.
Hoggard says Covid-19 has changed consumer preferences with an emphasis on cooking at home or restaurants providing simple, ready-to eat-meals that can be delivered to people's homes.
Calling a spade, a spade
Andrew Hoggard says the challenge for Federated Farmers is getting its views across to government.
He says there will always be debate on issues and people just have to be mature about this and sometimes just agree to disagree.
"I don't care who's in Parliament – those whose policies I like I will agree with and policies which I think are dumb, I will say are dumb," he told Rural News.
"If you look back over the last three years, you will see examples of what I call dumb policies and you will see examples of policies which I have said 'well-done, thank you very much'.
"The M. bovis tax issue is probably the most recent one. There have also been plenty of other ones in the area of biosecurity where the Government and the government agencies have worked well with us."