For the last six years, scientists from Plant and Food Research, based in Hawkes Bay, have been working on an MBIE funded research programme called Future Orchard Planting Systems (FOPS), led by Dr Stuart Tustin. The goal of the research has been to design an orchard system that allows the fruiting canopy to capture more sunlight with the hope that it would lead to improved production and sustainability.
The present best conventional apple trees and orchard designs only utilise between 60% to 65% of the available sunlight. But according to Dr Ben van Hooijdonk, their new orchard design utilises up to 85% of the sunlight energy, and they hope they can take this to 90%.
"The FOPS programme is based on an accumulation of knowledge over a number of years, but hasn't been done internationally," van Hooijdonk told Hort News.
"It was well known that there was a limitation in our present orchard designs about how much sunlight they capture. But no one had been daring enough to narrow the spacing of the tree rows, in an attempt to increase sunlight capture and improve yield."
He says the important innovation is narrowing of the tree rows.
Van Hooijdonk and his colleagues working on the project decided to carry out trials that would see the rows of trees a mere two metres apart. They also went a stage further and trialled rows 1.5m apart.
The purpose of the 1.5m spacing was to test the biology of the plant. But van Hooijdonk says it's clear the 2m spacing is the better option for commercial growers.
In the actual rows, the apple trees are planted three metres apart. Attached to 3.5m tall posts all along the rows are a series of wires to which the apples trees and their stems are firmly attached.
"Each tree is a divided canopy. There are two stems and we lay them down in opposing directions along the row, like a grape vine cordon," he explains. "From these we take 10 vertical stems per tree and they are spaced 30cm apart in what are in effect mini trees, which allows for maximum light penetration right down into the bottom of the canopies and that is what contributes to higher yields and better quality."
Van Hooijdonk says the outcome of the trial thus far has been outstanding and some innovative growers are already converting their orchards to the new system. With a narrower spacing between the rows (2m) and a wider spacing between the trees (3m), only moderate tree densities are required per hectare.
Van Hooijdonk says the optimum planting is 1667 trees per ha. He says, at present, a good grower with a conventional orchard system may expect to have a yield of about 100 tonnes per ha and an average grower between 60 and 80 tonnes per ha.
"But on one FOPS orchard where they are trialling the Jazz variety of apple, the yield was 180 tonnes per hectare," he says.
Not just yield
While the new orchard design has created some amazing new numbers in terms of yield, it has also revealed some other benefits, of which quality is one.
Dr Ben van Hooijdonk says normally growers would pick a tree three to four times to ensure that only fruit that has reached the required colour are harvested.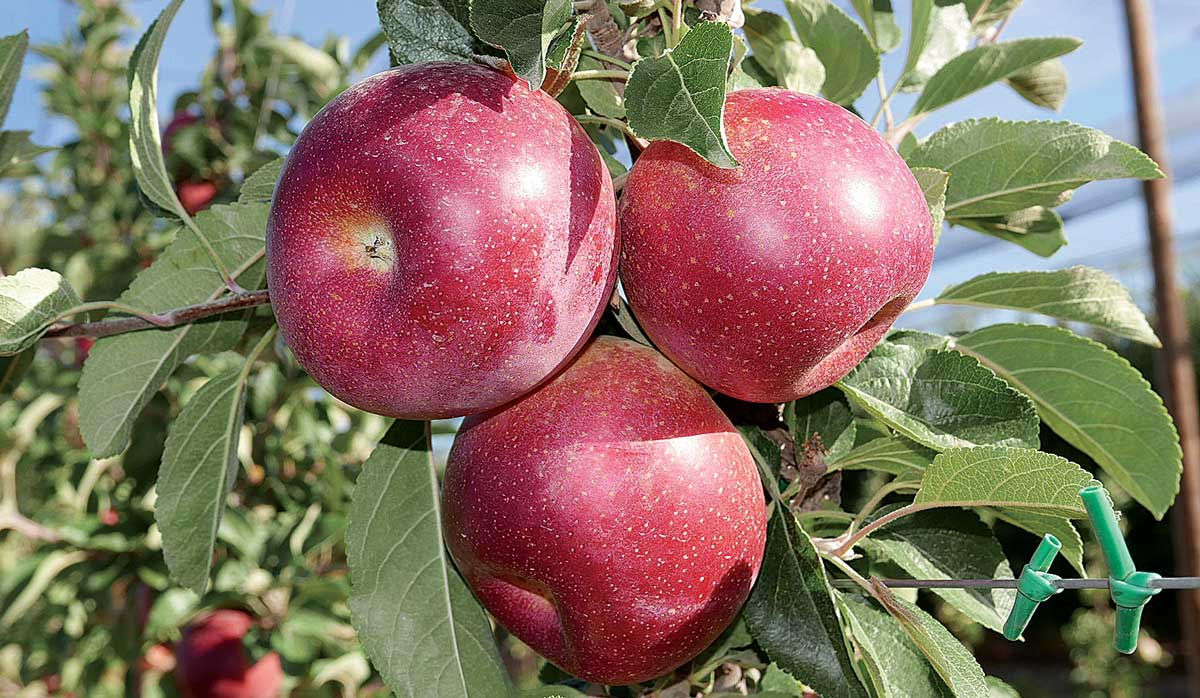 The apple orchard design reduced spaces between plants by half — from three metres to just 1.5.
"What we've seen, because of the vastly improved light environment, is much more uniform populations of fruit that ripen and colour more evenly," he told Hort News. "Consequently, we are picking a lot more fruit in the first two harvests. Overall, the quality is less variable and we are also achieving better size and dry matter, which is a metric for eating quality."
Another timely facet of the design is that trees are two metres apart – perfect in terms of social distancing with Covid-19 being around. Because the trees are not bushy they can be picked by staff standing on platforms as opposed to ladders. The platforms are safer and easier for staff to work from.
The new orchard design will, however, require some rethinking when it comes to the use of technology. For example, many of the robotic harvesting machines are large – smaller ones will need to be designed. Smaller tractors and equipment will also be needed to get down the narrower two-metre rows.
The FOPS programme was not just set up to look at apple orchard design. Pears and summer fruits such as cherries and apricots were included and van Hooijdonk says there are promising outcomes for cherries. He says avocado growers have also expressed interest in the system.
He says while the results to date are positive, the test will be to see how the orchards using this system perform in the next eight to ten years but adds if the results they are achieving now continue they have a winner.