There's welcome weight to crops across the motu, and above average yields looking likely for Sauvignon Blanc in particular, but inclement conditions are causing harvest headahes for some.
Auckland
"Once again a great year for Auckland," says Tony Soljan in mid-March, a little more than a quarter of his way through the region's harvest. "We only had a burst of rain in February and fortunately things dried up straight aftwerwards,' he says, happy with "a great summer" that's continued into harvest.
Soljans also gets grapes from Gisborne, Hawke's Bay and Marlborough "and we're just moving down the country now", says Tony. "We are growing varieties where we think they grow best." That process begins with Chardonnay and Pinot Gris from Auckland, "with good tonnage but not over the top". Soljans has worked to isolate the winery and their hospitality venue, but he says Covid-19 and the loss of staff to isolation "is a challenge we could do without".
New Zealand needs a good year, with "good quality across the board", says Tony, in his 62nd vintage. "I have seen a few ups and downs," he notes with a laugh. "Every one is different."
Gisborne
"She's a very challenging season," says Mark Thompson from Gisborne, where Omicron has hit his winery crew and rain has hit the vines. "It pretty much started once the new year rolled around and we got an extra 350 to 400mm of rain between January and February," ays the Client Winemaker at GisVin and Chair of Gisborne Winegrowers. "That has caused some major issues in some of our thinner-skined varieties - Pinot Gris, Sauvignon Blanc, Gewürz. There's been a lot of splitting and a lot of rot."
Meanwhile, he has an eye watering 70% of his staff off with Covid, "with a lot of people going down with it and coming back up again".
Harvest kicked off in the last third of February and by mid-March, when we speak, he has had three weeks of growers "screaming out" for their fruit to be picked. "One of the things we have been doing is basically picking blocks on condition rather than ripeness, so the worst affected blocks get prioritised."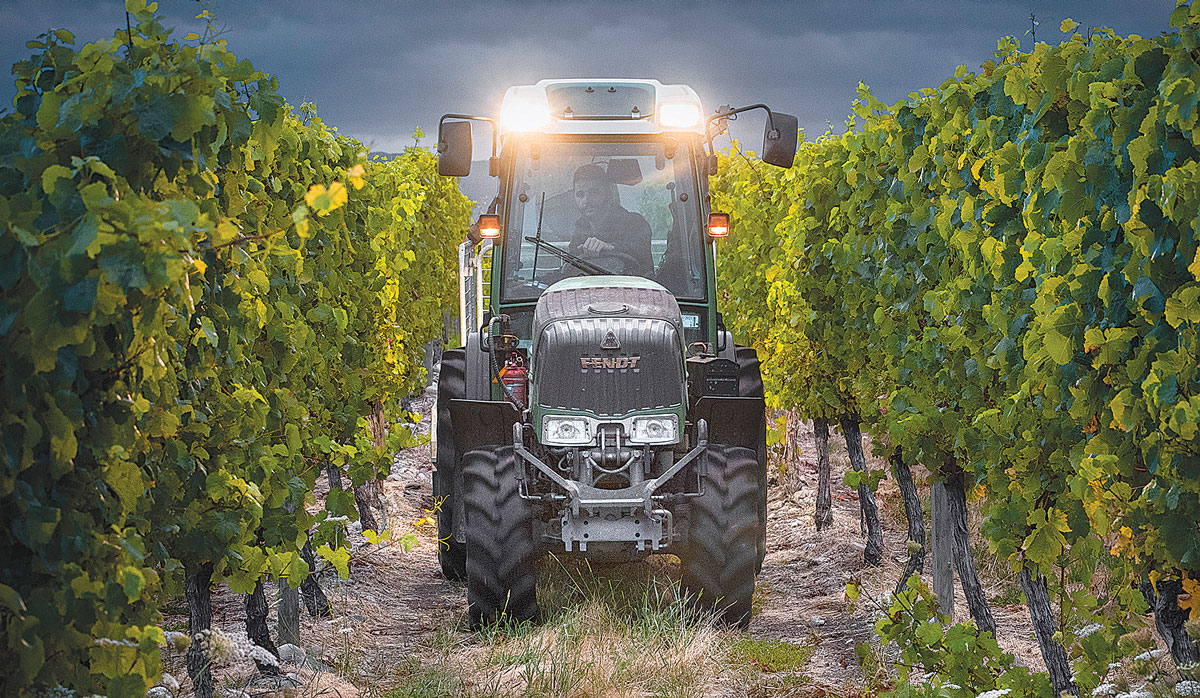 Photo by Richard Briggs.
Thankfully the winery toolkit - even with a hollowed-out workforce - has mitigated most of the disease issues, with "beautiful clean ferments", says Mark. "We have managed to do some pretty amazing stuff in the winery... and produce some pretty good wines we think."
Mark, who is originally from Hawke's Bay, but worked at Margaret River before arriving in Gisborne in 2017, has had four good years in a row and wondered why people talked about Gisborne being a tough place to make wine. "I'm finding out with this one."
Hawke's Bay
"It's a bit of a challenging season for sure, and I know multiple regions will probably say that as well," says Paul Robinson, Hawke's Bay Viticulturist for Villa Maria.
After ending 2021 with a "pretty solid crop" across all varieties, in a happy step up from from light 2021 yields, "we were just looking for a dry stretch of weather leading into harvest, which up until the middle of February we got", he says. "People were pretty optimistic."
That good run ended in mid-February, with five days of botrytis-fuelling rain forcing the untimely pick of some early ripening Chardonnay crops. Fortunately, "the heavens cleared" and reasonably cool weather followed, limiting the spread of botrytis to later blocks, a couple of brix behind where it "crept in", but didn't take hold, says Paul. "The later sites have definitely been the shining light," says Paul. "Those Chardonnay blocks look bloody great."
Speaking on 19 March, he says Villa Maria has harvested the lion's share of its Hawke's Bay fruit, with all the whites in and harvest moving onto the reds, "which have held on pretty well", says Paul. "It feels good to have three quarters in the tanks, especially now that we have blocks we've picked when we wanted to. The early nerves have shaken off a bit."
But the harvest is "drawn out" and won't be finished until well into April, Paul says. Until the, he is hoping to pick what he wants when he wants "and not have our hand forced again".
And he hopes to be able to do that with as many of the team still on board as possible, "and not have that Covid influence forcing people to be away".
Hawke's Bay is in "a pretty good position to finish strongly", Paul concludes.
"The weather will have the final say on that. We can only play with the cards we've been dealt, and hopefully it's a good run to the end."
Wairarapa
The 2020 vintage seems "easy" compared to all that 2022 is throwing at the industry, says Jannine Rickards, Winemaker at Urlar and Huntress, and joint Chair of Wairarapa Winegrowers.
The region is dealing with labour shortages, Omicron and a very wet February, with much more work for the small and tired teams this harvest. "Staying positive is the aim of the game," says Jannine.
"We are all doing our very best to harvest the crop in the best condition we can with what teams we have."
Speaking in late March, as the Pinot Noir harvest progresses, Jannine says the brix are mostly just there, but crop is being dropped to ensure the best fruit comes in, "so volumes will be small again for the Wairarapa".
That's a hard blow for a region that experienced a 30% drop in yields in the 2021 vintage.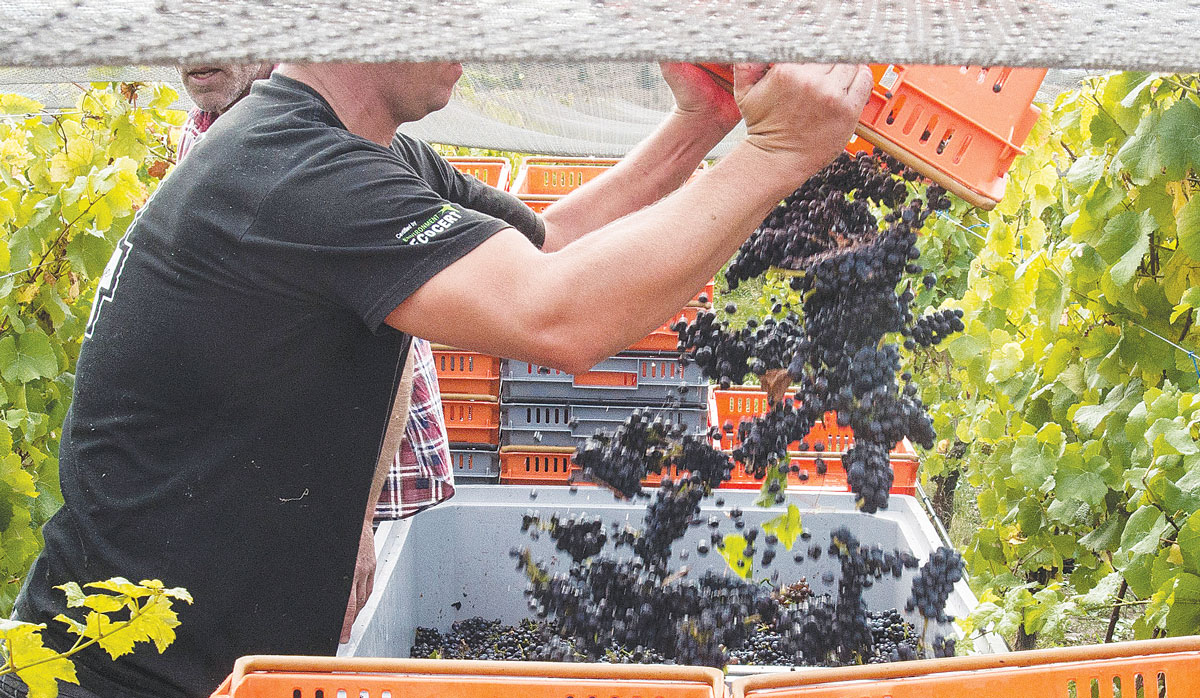 Urlar's 2021 harvest.
Jannine says the season was set up to be a cracker in terms of volume for the region, which naturally crops lightly, before February weather pressure changed the scene. Now it's a varied outlook across the region. There is some shrivel due to "decent heat" after the early February rain and other sites further north have some botrytis pressure, she says. "It depends on location and site." The region's industry is working collaboratively, keeping in touch with each other and sharing, labour where they can, with a WhatsApp chat group working well, she adds. "I can't speak for everyone, but I think a decent social gathering will be needed to connect in person once we make it to the other side."
Marlborough
After a 2021 vintage with disappointingly empty tanks, some Marlborough wine companies are grappling with the opposite problem. "We will be at capacity," says Marisco Vineyards owner Brent Maris, looking at yield 5% to 10% estimates.
Reasonable flowering and a wet, warm summer have amped up bunches for Marlborough growers with "typically heavier crops than we have seen for a long time," says Brent, who has their Waihopai Valley and Leefield Station wineries to spread fruit across, but still has a contingency "plan b" should capacity not be sufficient.
Along with the quantity sorely needed by companies with clamouring markets and empty cellars, the quality looks promising he says. "With the weather being as dry as it has been at the start of harvest, we are starting to kick in with balanced fruit flavours that we were used to from years gone by."
On 17 March Brent's daughter Emma, a Marisco Vineyard Production Winemaker, says they've harvested some Rosé, fruit for Sparkling, and hand picked Pinot Noir and Chardonnay from town sites - two weeks ahead of the Waihopai Valley home vineyards - as well as a little Sauvignon Blanc. Their sights are now set on the Sauvignon onslaught with new plantings coming on stream alongside the abundant yields of established blocks.
Emma says the disease pressure brought on by summer rain events has been eased by weeks of dry weather with several forecast deluges dissipating before they hit. Afternoons of cool easterly breezes have also helped ease disease anxiety. Meanwhile the team have been busy mowing undervine grass, which is more abundant than usual at this time of year, to mitigate the risk of heavy autumnal dew.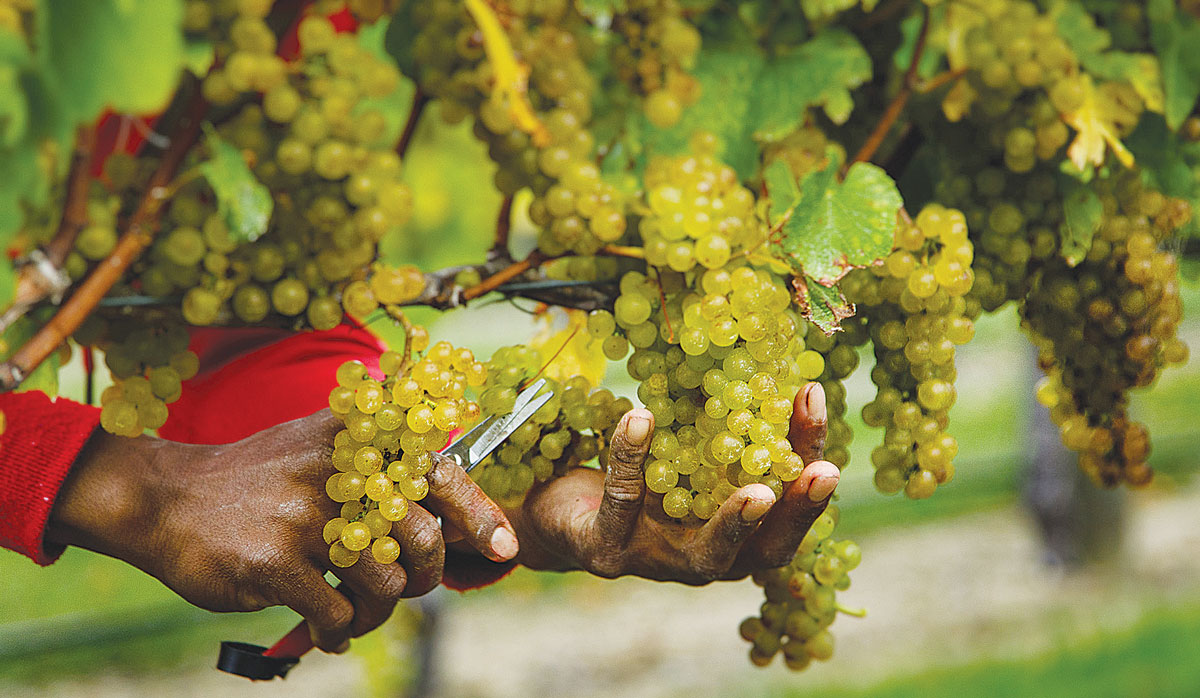 Handpick at Lawson's Dry Hills in Vintage 2022. Photo by Jim Tannock
The above average crops couldn't have come at a better time, following Marlborough's 2021 vintage with the region's yields 21% down. "Our tanks are empty and our warehouse is becoming increasingly empty," says Brent, adding that extra plantings and a heavy crop, "that looks super solid as far as flavour and structure are concerned", means they can let their buyers know "with confidence" that they will be able to supply more this year. They aim for their first shipment to leave in early June, a month earlier than a typical year.
As well as meeting current markets there are plenty of new opportunities, says Brent, noting that it's not just Sauvignon Blanc the markets are clamouring for. "It's Pinot Gris and Rosé; it's right across the board, which is pretty exciting." There's enthusiasm for a "revitalisation" of Marlborough as a region, "and where Sauvignon Blanc has been short, we've seen them switch to other varieties and that's been exciting for us", he says.
Jules Taylor of Jules Taylor Wines is also eager to get more wine to "thirsty" markets. "We just need to get on, get it harvested, get it all blended."
It's going to be a rush to get the Sauvignons, in particular, into bottle, she says. "Ideally it would have been nice to have an earlier vintage, because it wouldn't have put so much pressure on. But that's part of working in an industry where Mother Nature rules the roost."
As it is, Ma Nature has served up a cool ripening period which is pushing harvest later than it's been for several years. But a mid-March start is actually more typical than recent years of early harvests, and the Sauvignon Blanc will likely be "more the Sauvignon we know", she says. "It's had a longer time to ripen, so more hang time on the vines, and it has great potential".
Speaking on 17 March, she says it's a "waiting game" with high and punchy acids "hard on your teeth and your belly" in the cool autumnal conditions. But sugars are beginning to accumulate and acids to ease, she says. "They're green but they're really intensely green. That to me bodes well that when it ripens, it's going to be packed full of flavour."
February's rain has resulted in big berries and bunches, and "as a whole, the crop, and especially the Sauvignon Blanc, is going to be above average", she says. "It's going to be a game of chess to get it all harvested and into a tank."
It's "super hard" to be patient, Jules adds, "I just want to pick a block of Sauvignon Blanc just to have it fermenting and smell those first hints of what's to come. For me that's when vintage has started - when you get those aromas when you go into the winery."
Over at Nautilus, Winemaker Clive Jones has also started harvest by 17 March, "chipping away" at Pinot Noir, Chardonnay, Pinot Gris and bubbles, as well as a small block of young Sauvignon. "It looks like a season where we might be able to get most of the small blocks and hand picks in before the real focus on Sauvignon for the finish," he says.
The cool autumnal period means ripening is moving relatively slowly, which is positive from a flavour development point of view, but tough on peace of mind. "At this stage there's no need to rush, but there's a degree of risk", he says, noting the potential impact of Covid-19 on workforces, and the danger inclement weather could pose to disease levels. "I think there'll be a greater than normal sense of relief when we get through this vintage."
It's been very dry since repeated February downpours raised botrytis red flags, he adds, "so we have had a reasonable start to the harvest. But it's only mid-March, so there's still quite a long way to go yet".
There's a balancing act at play between, "how long can we wait before we really pull the trigger and crank into it?" Clive says, noting that several wineries have kickstarted harvest early.
"Some of it may well be for low alcohol wines, but I suspect some is to get something in the tank."
When it comes to space for the higher-than-average yields, the Nautilus winery is empty going in, without any of the wine they would typically carry over from the previous vintage, "so we are as prepared as we can be for a large harvest", says Clive. "And we expect to get close to full at the end of it. At this stage we should have enough room."
North Canterbury
North Canterbury's warm start to the season was curtailed by cold come the new year, with growing degree days plummeting to the long-term average from January.
Mike Saunders, Chair of the North Canterbury Wine Region Committee, says above average rainfall in January and February and means vines are vigorous and healthy on the cusp of harvest, with big grapes and big bunches bringing potential for yields well above estimates made earlier in the year.
That's good news for a region hit hard by frost in the 2021 vintage, Mike says on 18 March, three days before Greystone's harvest was to kick-off for 19.5 brix pét-nat.
However, the Company Viticulturist for Greystone and Muddy Water Wines is concerned by the long stint of cool days dragging out the ripening period, as growers work to deal with botrytis infections from the repeated rain events. He's pleased to see organic methods at play, with companies busy thinning canopy to increase air flow, but has fingers crossed for hot days, ripe bunches and full tanks. "If we can get some sunshine onto the fruit we have and get it in the tank, we have a great chance of making some amazing wines."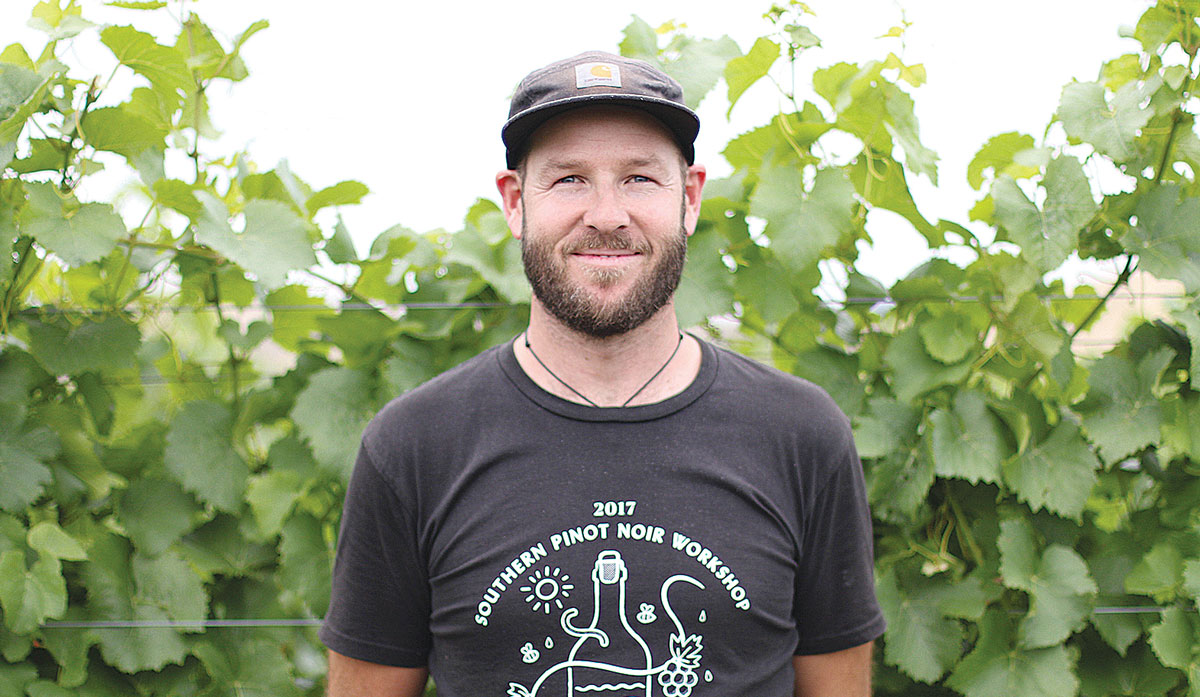 Mike Saunders
Mike says companies have been dealing with Covid infections responsibly, and the region has not been hit badly by the Omicron outbreak to date. Greystone has critical service status, which means their workers have an exemption from close contact isolation requirements, if they return daily negative tests. He hopes that dispensation, as well as the care being taken in the region's wineries, will get them through the harvest with enough people on the job.
Central Otago
The season has been kind to Central Otago grape growers, and yields are up on the average crop anticipated earlier in the season.
Flavours are good too, says Matt Connell, of Matt Connell Wines in Cromwell, who was named Champion Winemaker of the Show at the recent New Zealand International Wine Show. "We winemakers say every vintage is the best one since sliced bread, but this one is looking good. The weather has been pretty good to us."
Speaking in late March, Matt said the Sparkling harvest was well underway, and Chardonnay was kicking off, with Rosé set to start soon. A long flowering period has led to more variation in the white varieties across the board, which will mean managing harvest to ensure unripe fruit is left in the vineyard.
"Some of the trees are thinking about changing colour slightly, but things are pretty green," says Matt. Rain, "on and off ", has kept crops fresh, "but there's been no hard cold snap quite yet, which is good".
The main concern in Central, as in the rest of the country, is the "unknowns around Covid for everyone", he adds. In Central Otago, where a large proportion of the harvest is hand picked, the challenge of securing and retaining labour is a major preoccupation, with the threat of Omicron exacerbating the issue. "There'll definitely be a lot more machine harvesting than there has been historically," says Matt.
But crews and companies are digging deep on learnings from 2020, adding rapid antigen tests to the toolkit, breaking up teams into smaller bunches to mitigate risk, and "going the whole nine yards", he says.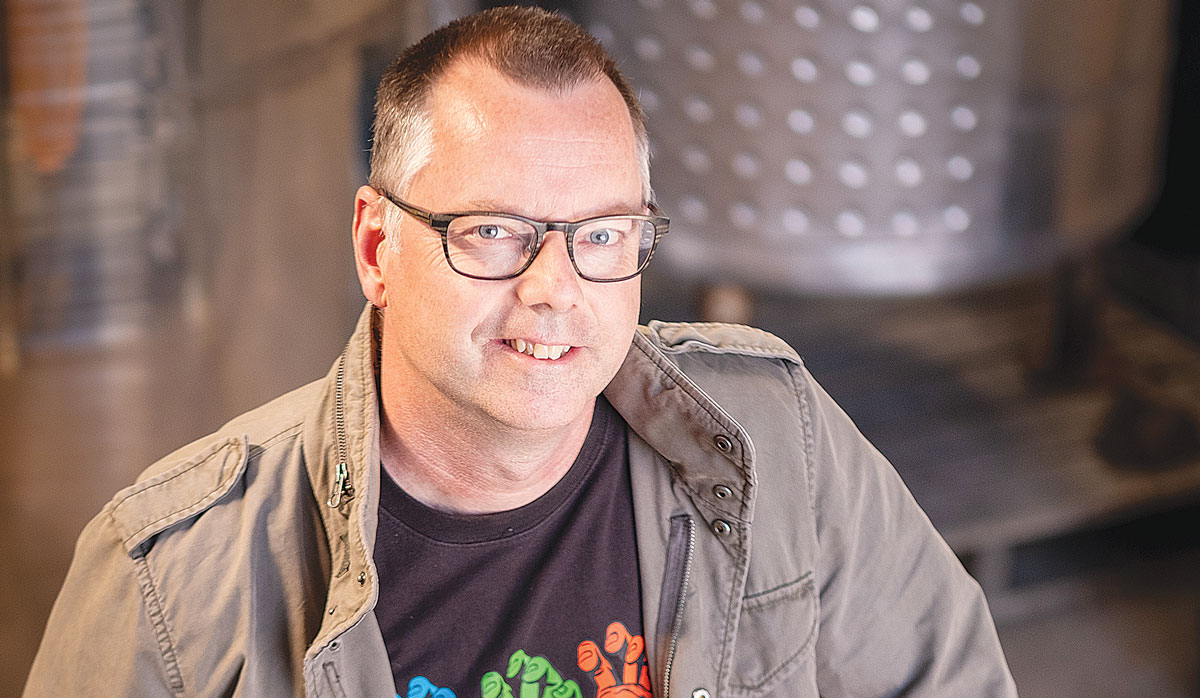 Matt Connell
While some bigger companies will begin their Pinot harvest soon, the main pick would begin in early April and wind up with later fruit out of Alexandra, Gibbston and Wānaka in mid-April, says Matt, anticipating harvest rolling through into May.
The trick, as always, is not to panic, he says. "It's ripening nicely and it's up to us not to stuff it up."