Friday, 25 January 2019 07:55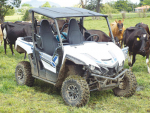 The Yamaha Wolverine X2-R spec looks to offer great work prospects plus performance — so you can have a little fun.
Monday, 19 February 2018 13:09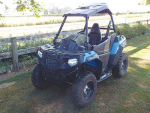 A cross between a quad and a UTV by Polaris could offer a safer alternative to traditional machines.
»

Latest Print Issues Online
So, cows are a major source of methane but how do you measure how much gas a cow burps?
In Australia, animal activists are taking exception to electric shock collars for use on cattle, calling it the equivalent of…