Thursday, 01 November 2018 11:45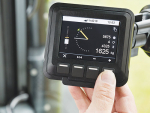 Frontloader specialist Quicke's Q-companion is designed to allow operators to record weights of materials loaded, so it proves useful for mixing rations or loading trucks with produce for hauling away from a farm.
Friday, 09 December 2016 14:55
Swedish manufacturer ALO, famous for its Quicke and Trima brands, is credited with building the first detachable loader in the late 1950s.
»

Latest Print Issues Online
So, cows are a major source of methane but how do you measure how much gas a cow burps?
In Australia, animal activists are taking exception to electric shock collars for use on cattle, calling it the equivalent of…