Thursday, 04 June 2015 10:37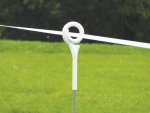 Fencing systems manufacturer Strainrite has used clever design and modern manufacturing technology to refine an old concept, and introduce the Tangle Free electric fence standard.
Now that the circus surrounding the Budget's release has subsided, Milking It makes the following observations about some of its…
It seems that the integrity of animal tracking system NAIT is under growing attack from farmers.
Synlait chief executive Leon Clement still hopes to open the company's new Pokeno milk powder plant on time.
Farmers are backing Fonterra's review of assets and overseas joint ventures as it grapples with strengthening its balance sheet.
Fonterra's first fixed milk price event attracted 215 farms, offering over 11 million kgMS to the co-op for $6.75/kgMS.
Mark Daniel on what's new in machinery for the vineyard.
New Holland Agriculture has introduced the new Braud 9000 series to its portfolio of self-propelled grape harvesters, with the 9090L…
Initially designed to assist fertiliser spreading trucks operating on steep New Zealand hill country, TracMap's GPS guidance and job management…