Displaying items by tag: Fellowship
Monday, 20 October 2014 15:11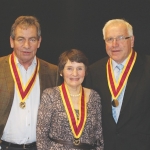 Three long-term and influential members of the wine industry were inducted as Fellows at the recent Romeo Bragato conference.
»

Latest Print Issues Online
The past 12 months have been full on for the New Zealand wine industry.
Two PhD students from Victoria University have developed a machine that could change the face of winemaking in New Zealand.
If A Seat at the Table hasn't made it onto your must-see movie radar yet, it will.